Additional Wilson Clash Racquets
Wilson introduced the revolutionary Clash in early 2019. This collection, the first to be designed for the modern tennis swing by flexing, without compromising stability or power, has quickly become a favorite on courts around the world. This line answered a central need from players globally – complete confidence to swing powerfully while offering unparalleled control over shots. It's a highly playable line that represents the intersection of flexibility, stability, power, control, and feel (hence the name Clash).
Two central technologies come together in Clash rackets. The first is the brand's patent-pending FreeFlex™ technology, which is a carbon mapping system that unifies carbon at unconventional angles throughout the rackets' frame for a higher degree of flexibility both vertically and horizontally.
This system allows the rackets to bend with any swing style to better pocket a tennis ball and control the release of the ball as a player follows through with their swing. StableSmart™, a new frame geometry
hat provides stability and power to these flexible frames, complements FreeFlex technology. The combined effect of FreeFlex and StableSmart? Control over the directional accuracy and depth of a shot, which results in more confidence for the player throughout every swing.
The Hype is Real
I've play tested the Wilson Clash 100 and I absolutely loved this racquet. There wasn't really anything that the Wilson Clash could not do. You can read my full Wilson Clash review to learn more. Every tennis player that I've talked to about the Wilson Clash has agreed that it is an phenomenal frame to play with. It's comfortable, powerful, spin friendly, and able to give you confidence on the tennis court for you to play your absolute best tennis.
Additional Wilson Clash Racquets: Lineup
The additional Wilson Clash racquets that are available are as follows: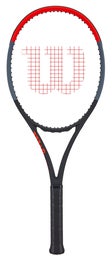 Wilson Clash 98
The 98-inch Clash offers the peak of confidence and control. The smaller headsize delivers best-in-class precision for any player who consistently hits the sweet spot, while the head-light balance reduces swing weight and adds control through a swing. The Wilson Clash 98 is reserved for advanced players who enjoy hitting with access to topspin as well as maintaining control and comfort. Just like the 100 and 100 Tour, the 98 comes with a 16×19 string pattern.
Click here to try one out
Wilson Clash 100L
Coming in at only 9.9 oz (280 g unstrung), the Clash 100L is the most lightweight frame in the line. This racket is ideal for a transitioning junior and any player who prefers a lighter racket. Don't let the lighter weight fool you, the ease of swinging will give any player the ability to fully harness what the Wilson Clash has to offer. Like the new Wilson Clash 98, the 100L also comes with a 16×19 string pattern that will allow plenty of access to spin.
Click here to try one out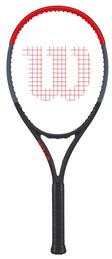 Wilson Clash 108
With the most generous sweet spot in the line, the Clash 108 gives plenty of forgiveness at a comfortable swing weight. Also, lightweight (9.9 oz / 280 g; unstrung), this larger headsize increases the sweet spot for off-center hits. Ideally for the player who has a slower swing, the Wilson Clash 108 will still give you the access to the sweetspot that you need to hit penetrating shots. The 16×19 string pattern will still give ample spin on both the backhand and forehand.
Click here to try one out