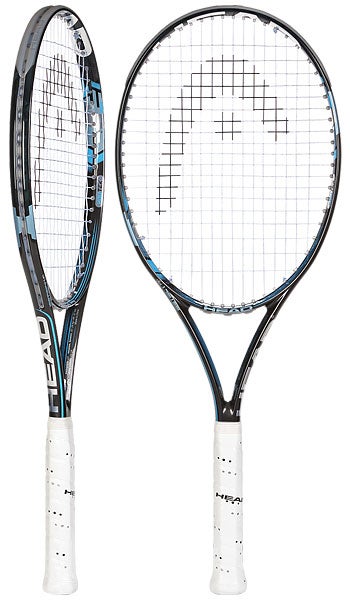 Finally! It's about time Sharapova's tennis racquet gets released to the public! Of course, the best places sell them…Tennis-Warehouse has them fully in stock.
Maria's tennis racquet come from leading racquet manufacturer, Head. The model is the new 2011 YouTek IG Instinct, a buddy of mine swears by the Instinct frame, claiming it to be the absolute, most comfortable tennis racket he's ever held in his hands.
The open string pattern (16×19) will allow some easy access to spin which is always needed in today's tennis game. Also it's right in the middle of a light and heavy tennis frame coming in at 10.9 ounces. This should give plenty of "plow" through while not fatiguing your arm as say a 12 ounce tennis racquet would.
Because of the headlight balance of the Instinct, playing at net should be really comfortable. Getting the stick to manueaver from forehand to backhand volleys should be super easy, heck you might even feel like Sharapova.
One of my favorite features of this Instinct racquet is the aesthetics, the blue and black colors look really awesome, almost stealth like. I know, can't judge a book from it's cover, let alone a tennis racquet, however; if the Instinct plays anything like it predecessors then I will confidently judge this to be a bad-ass stick. Oh and we'll see how it helps Sharapova win Wimbledon this weekend.
Head Instinct Racquet Specs:
Head Size: 100 square inches
Length: 27 inches
Strung Weight: 10.9oz
Balance: 5 pts Headlight
Power Level: Low-Medium
Stroke Style: Medium-Full
Swing Speed: Medium-Fast
As soon as I have a chance to review this Head racquet, I'll post it.