Nadal pulls himself out of the ATP Masters series events at Indian Wells (also known as the BNP Paribas Open) followed by another withdraw from the Miami Open the following week. Nadal posted on his Facebook page the following,
Hola a todos. Lamentablemente me veo obligado a escribiros esto, pero se confirmaron mis peores presagios y al final la lesión que sufrí en el último entrenamiento en Acapulco antes de comenzar el torneo resulta ser en la misma zona que en Melbourne. No podré jugar en Indian Wells ni Miami y el objetivo ahora es recuperarme para estar a punto para la temporada de tierra batida. Si fue doloroso retirarme en Acapulco donde tantos fans tengo que siempre me apoyan, es también doloroso no estar con mis fans en Estados Unidos en esta gira americana de marzo que siempre ha sido importante. Os echaré de menos pero haré todo lo posible para estar de vuelta en 2019. Muchas gracias.

Hi everyone. Unfortunately, the injury I suffered in Acapulco before starting the tournament is in the same area as the one suffered in Melbourne. I won't be able to play in Miami or Indian Wells as I need to recover. It was very painful to retire from Acapulco and it's very hard as well to not play in the USA. I will miss you and I will do everything that's possible to be back there in 2019. Thank you
Nadal Continues with Injuries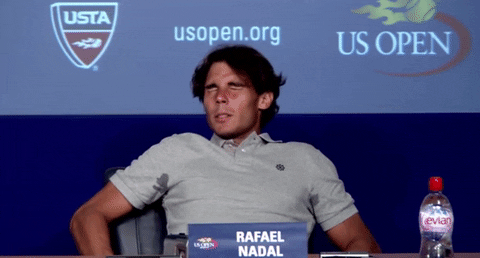 So the Nadal injuries continue at this stage of his, nothing short of, a fantastic tennis career. Arguably the second greatest tennis player ever (behind Roger Federer) and without a shadow of a doubt, the greatest Clay Court Specialist the sport has ever seen. Unfortunately his style of play has seemingly caught up to him. His knees are pretty much shot, having had surgery a couple of years ago, and the pain just keeps coming.
At what point will the "Bull" finally swallow his pride and just retire? Withdraws have become more and more frequent over the last couple of years. He needs recovery and is constantly making remarks about just how difficult it is on the body to play tennis day in and day out.
Will Nadal Retire?
Well, ultimately, it's up to the Spaniard if he wants to call it quits. Though, it is looking more and more that the time is nearing.
Clearly that is a major decision for him to make, especially being so close to Roger Federer's Major Title count, being just 4 away from the Swiss. His knees are probably, at this point, the age of an 80 year old man and not looking like they're going to get better at all.
At this point he's probably going to rest up and rehab his knees for the clay season. Where he can capitalize on his specialty.
I certainly hope that his knees will recover and he has a swift return to the ATP Tour.