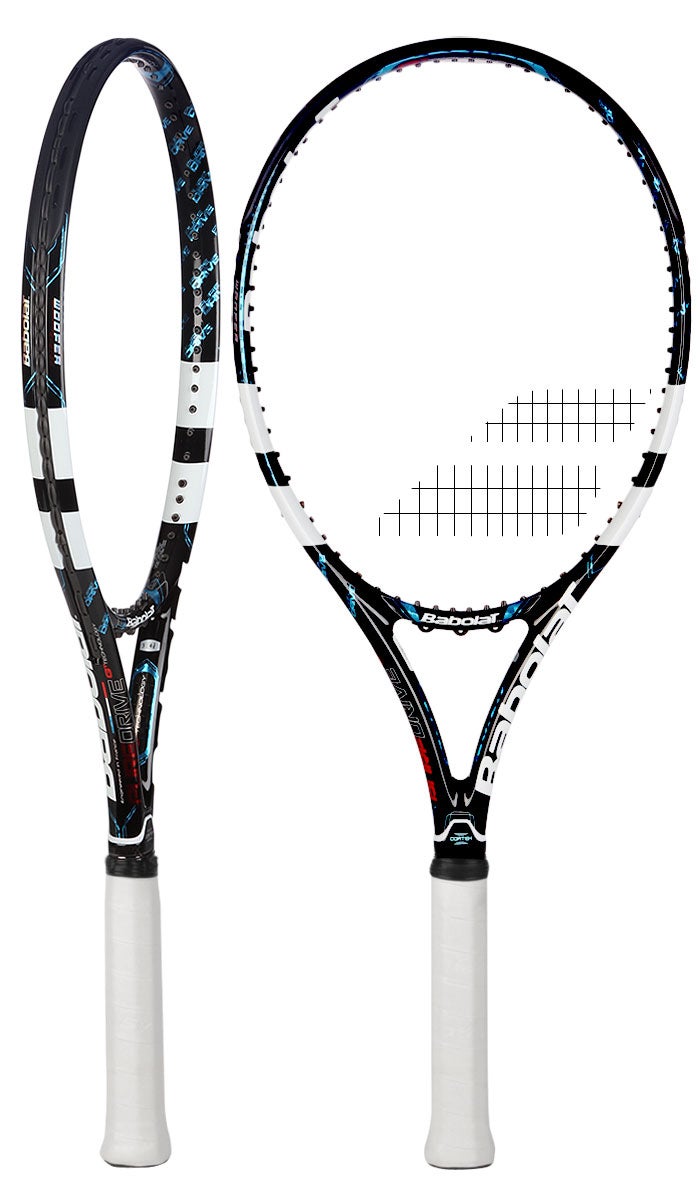 The 2012 Babolat Pure Drive (Roddick, Plus, Standard versions available) was released at the beginning of the 2012 tennis season. I was fortunate enough to really get to know the 2012 Babolat PureDrive. It has a lot of potential and a few downfalls.
Getting to know the 2012 Babolat Pure Drive
The Pure Drive frame brings back a lot of fond memories of when I started playing tennis seriously, it also brings back a lot of bad memories as well. Though, I was very much looking forward to playtesting this frame and seeing what it could do. My first impression of the cosmetic change was good, I really like the dark colors that Babolat went with, it kind of brings out the "badassness" of it, though I wasn't quite fond of the blue holographic paint on the inside of the head; but whatever, it's just cosmetic.
The 2012 Babolat PureDrive felt pretty light in my hand, especially for coming in at 11.1 ounces, it just didn't have that 'complete' feel to it. I am partial to a tennis racquet that is more balanced to be head light, the PD comes stock at 4 points head light, fairly balanced to me. This would be something that I would have to change if I were to keep this stick in my bag. I took a few practice swings in my living room and noticed the swingweight, it was fairly light feeling having a SW of 308; the low swingweight of the 2012 Babolat Pure Drive left me thinking that I wasn't going to get enough plow-through on my strokes; but hey, that's what customization is for right?
Hitting with the 2012 Babolat Pure Drive
I finally took the 2012 Babolat Pure Drive out on court to get a feel for what it could do in action. I had the Pure Drive strung with Babolat RPM 17, to get the whole Babolat experience ;); unfortunately it didn't make much of difference. Making ball contact was such a nice feeling, there was very little shock or vibration coming through the frame, thanks to the Cortex system that Babolat so brilliantly implemented to their frames. Even with the comfortable frame, I tried as hard as I could to generate deep penetrating shots with good pace, however; the lack of swingweight made that extremely difficult off the ground.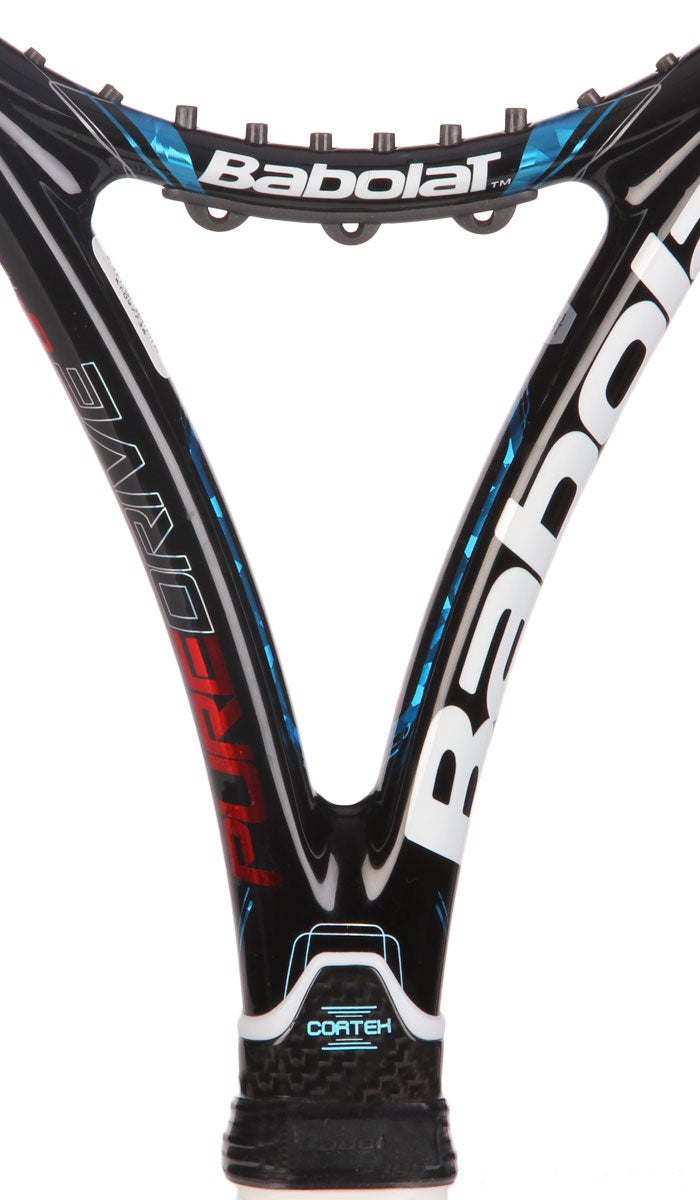 I certainly enjoyed the open string pattern though (16×19), I was able to get some good spin off my western forehand, the ball didn't kick much but it did accelerate through the court at times. I still struggled with the weight of the racket, like I said, it didn't feel 'complete' when trying to hit a hard ball. The 2012 Pure Drive was starting to fail me.
Serving with the 2012 Babolat Pure Drive was decent, I was able to place the ball easily and add different spins when needed, but again the plow-through was just not evident on any of the shots I was going for. I think even at one point I said, "No wonder I broke so many of these."
Is the 2012 Babolat Pure Drive tennis racket really something new for this tennis season? I don't think so, the paint looks amazing, but the functionality of the frame leaves a lot to be desired.
To sum up my review of the new 2012 Babolat Pure Drive; looks nice, but lacks plenty on court. If I had to make the switch to this frame, the first thing I would do is add some weight to increase the swingweight and make the balance more head light, perhaps 9 points. It just didn't give me the solid feeling on court, it lacked power for my game. I felt like I had to overswing to generate racquet head speed to get power from my groundies. However; had I had the chance to customize this racquet, I think I would very much enjoy it.
2012 Babolat Pure Drive tennis racquet specs:
Head Size: 100 sq. in. / 645.16 sq. cm.
Length: 27in / 68.58cm
Strung Weight: 11.1oz / 314.68g
Balance: 4 pts HL
Swingweight: 308
Stiffness: 72
String Pattern:16 Mains / 19 Crosses
Summary
Reviewer
Review Date
Reviewed Item
Author Rating