Babolat PureDrive GT review
Compared to the Babolat PureDrive Cortex, the new Babolat PureDrive GT tennis racquet comes with Babolat's new Graphite Tungsten Technology, which allows racquet more stability and control when coming in contact with the tennis ball. The PDGT also has Babolat's "Cortex System" and "Woofer" technology, that greatly reduces the vibration to the arm, thus preventing debilitating tennis elbow; the Woofer will add more power to your shots by allowing the tennis strings to move a bit, which gives the ball to sit on the string bed a little longer.
When I hit with the Babolat PureDrive GT, I felt that it provided my shots with an massive amount of power; my strokes felt crisp and well-behaved. I was able to place the ball pretty well with just the right amount of power behind it. The feel on my strokes was very solid, I was able to go through the ball making my shots go deep into the court. The open string pattern (16×19) of the Babolat Pure Drive GT  provided my shots with enough topspin to land deep in the court and kick up on my opponent.
Serving with the Babolat PureDrive GT was an enjoyable experience, hitting big flat serves down the T was quite easy and getting the slice and kick serves with a lot of action was not as demanding as some tennis racquets are. The power behind the PDGT was evident when going full bore on serves, I knew when I hit it really big and watching the tennis ball stay very low really impressed me. Because of the larger head size (than what I am used to playing with), hitting a consistent, accurate, big serve was pretty easy.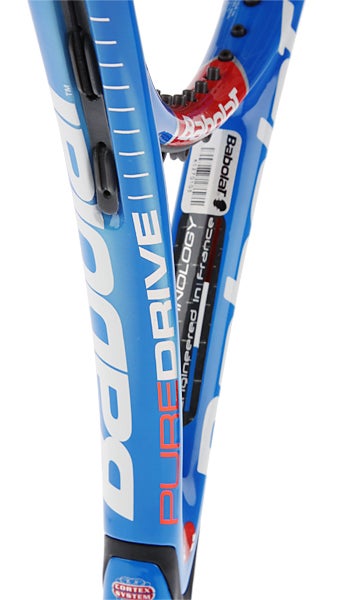 Overall the Babolat PureDrive GT is an amazing tennis racquet providing a combination of power and control with an ample amount of spin. This would be a perfect tennis racquet for all levels of tennis players, juniors, seniors, weekend warriors, club player, you name it. It will provide a beginner with the extra power and comfort they would be looking for, while the seasoned player will be able add more power to his or her tennis game. The Babolat PureDrive GT requires players to have solid strokes, from time to time, the off center shots would go all over the place.
Babolat PureDrive GT Specs:
Head Size:100 sq. in. / 645 sq. cm.
Length: 27 inches / 69 cm
Strung Weight: 11.2oz / 318g
Balance: 4pts Head Light
Swingweight: 327
Stiffness: 70
Beam Width: 22-25 mm
Composition: Graphite Tungsten
Power Level: Low-Medium
Swing Speed: Moderate-Fast
Based in sunny Southern California, raised in Argentina & USA; lover of all things tennis, USRSA Master Racquet Technician (MRT), ATP/WTA Pro Level Stringer; reviewer of tennis strings, tennis racquets, and any interesting tennis gadgets I come across. Plays NTRP 4.5 singles and some doubles. Singled handed backhand with a wicked affection for cured meats and Asado.
Summary
Reviewer
Review Date
Reviewed Item
Author Rating