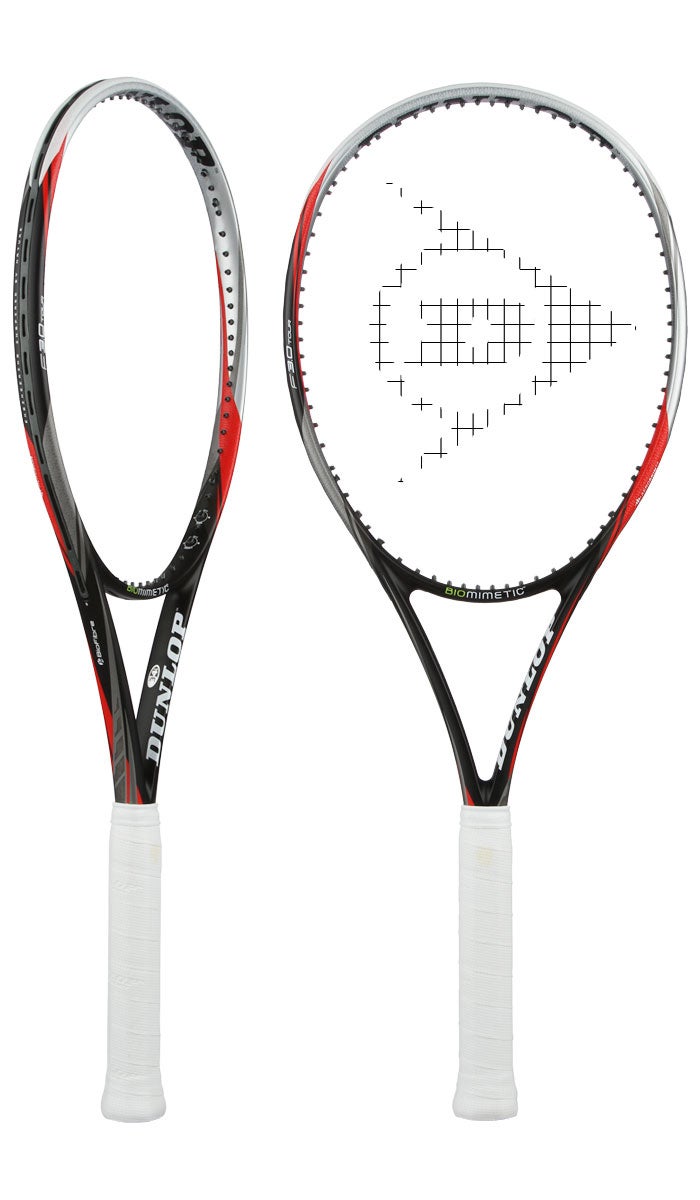 The Biomimetic F 3.0 Tour is the latest racquet from Dunlop. When I heard about this new frame, I was pretty excited as I am a fan of the Dunlop brand. I looked at the specs of the Dunlop Biomimetic F 3.0 Tour and liked what I saw; nice swingweight, balance, head size, and frame stiffness. All things pointed to a perfect racquet, except for one thing, the string pattern, 18×20.
I'm not a big fan of dense patterned tennis racquets, I like to hit with spin and the closed pattern was kind of a turn off for me. Dunlop made the F 3.0 Tour with a dense pattern to allow for more controlled, precision orientated tennis players. Dunlop hit an ace with this frame!
Dunlop Biomimetic F 3.0 Tour playtest
In my hands, the racket felt perfectly balanced, the weight distribution was spot on. Even though the unstrung weight is a hefty 11.5 ounces, the swingweight felt surprisingly light and even keeled. My warm up strokes felt nice and stable, still, I was worried that the spin would not be accessible. Though, I was determined to give it my best shot and see what it could do, I'm glad I did.
As soon as soon as I got to the point of full strokes, the true potential of the Dunlop Biomimetic F 3.0 Tour shined. What I had in my hands was a true players racquet, one that any player who has stable strokes could benefit from. I was very impressed with most of what the racquet could do for me.
This frame packs some serious punch. The Dunlop Biomimetic F 3.0 Tour can rip! The frame rewarded me on smooth strokes, I could feel the ball come off the bed with some impressive crispness. With every shot, I liked the racquet more.
Because the Bio F 3.0 Tour has a dense string pattern, I wanted to see how much control I could get. This was by far the most impressive aspect of the frame. I was able to place the ball exactly where I wanted to place it; down the line, cross court, down the middle; you name it, the racquet could do it. The best part was, it was effortless. Some control racquets make you work for placement, the Dunlop Biomimetic F 3.0 Tour required very little energy to place the ball; just a smooth stroke and the ball will go.
Even with power strokes, the framed remained stable in my hands. There was little to no twist in my grip, even off centered shots would not make the racquet move much.
Now, I was worried that access to spin was going to be an issue for my style of play. I am a big fan of top spin and the backhand slice, so the 18×20 string pattern worried me a little. Thankfully, the Dunlop Biomimetic F 3.0 Tour gave me just the right amount of spin I needed. It wasn't crazy "nadal-esq" top spin, but it was a decent amount. My backhand slices were a little less than impressive, I could keep it low and deep but it lacked the bite after hitting the ground. I figured it was the string setup. If I had the opportunity to play around with the strings (gauge and string shape), I could make this a bit more of a spin friendly tennis racket.
Dunlop Biomimetic F 3.0 Tour serve impressions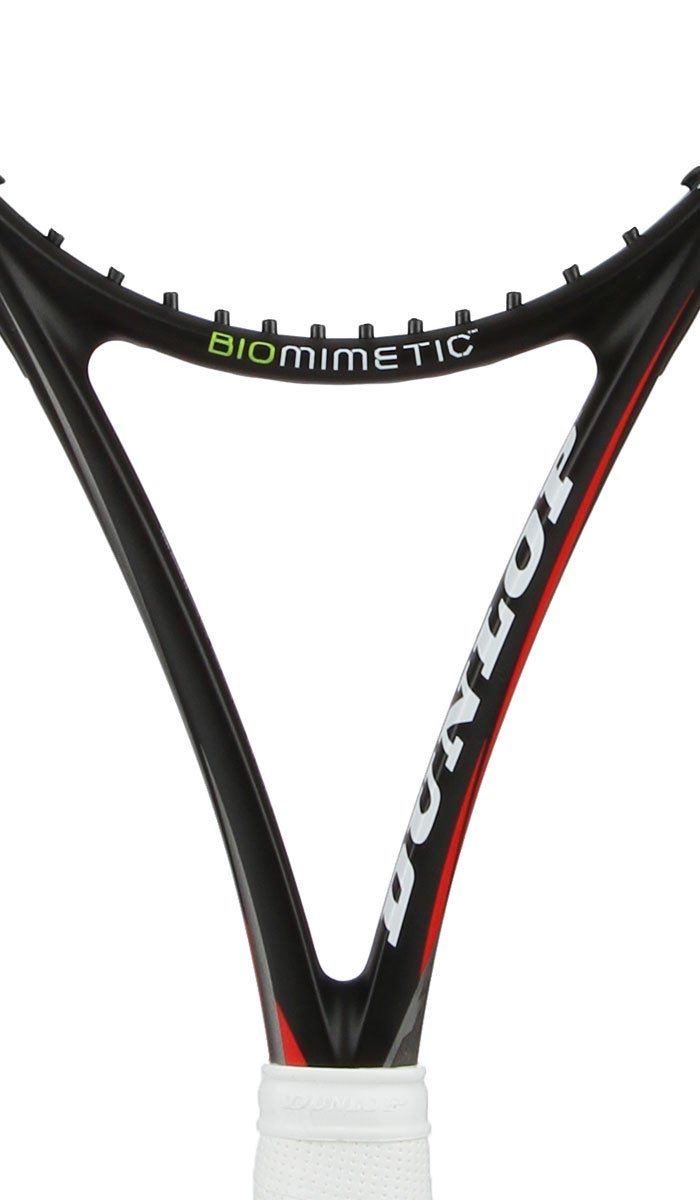 Serving with this tennis racquet was one of the easiest strokes I had to come up with during my review. I like to hit flat, in the corner or at the "T", because placing shots with this racquet was about as easy as pie, I could, without trying, put it anywhere in the box that I wanted. That wasn't the only characteristic of the F 3.0 Tour that impressed me. Without having to really go after my serve, I was able to bomb my flat serve. The ball would come off the racquet like a "bat out of hell"! Just a solid swing, center of the stringbed, and BOOM screaming ace! I couldn't believe it. This is a servers tennis racquet.
Second serves though, suffered. Because the spin was not that of a more open string pattern, I couldn't get the kick or slice that I normally can get. But, if I calmed my service motion down a little bit, I could roll it in just good enough to get the ball deep in the box. I could still, place the ball anywhere in the box that wanted.
Dunlop Biomimetic F 3.0 Tour conclusion
I spent a good amount of time with the Dunlop Biomimetic F 3.0 Tour and I loved most everything about this racquet. I could deal with the lesser spin, though I was compensated with control and a powerful response from the frame. Even with all this power and control, not once did I feel that my arm was going to be sore. I could not feel any jarring or frame vibration. I did use a dampener as a precaution, though I felt that I could take it off if I needed. Though, I would not say this would be an ideal racquet for a player who is suffering or prone to arm problems.
This is a powerful tennis racquet, one that would reward a player with sound strokes and enough discipline to adapt and adjust swing speed. I would absolutely make this my go to tennis racket if I could buy a couple of them. If you're looking for a tennis racquet that has a nice blend of power, control, and feel, this is it. Perfect a NTRP 4.0+ who is open to tinkering with strings setups and string types. If you get your hands on one, you'll know that you have a superior tennis racquet.
Oh, did I mention the cosmetics are kick-ass? The red, black, grey, and white really blend well together. I highly recommend that you give this tennis racquet a playtest…you will be glad you did.
Dunlop Biomimetic F 3.0 Tour racket specs:
Head Size: 98 square inches
Strung Weight: 11.5oz
Balance: 6 pts HL
Swingweight: 319
Stiffness: 64
Beam Width: 22mm / 22mm / 22.5mm /
Power Level: Low
String Pattern: 18 Mains & 20 Crosses
Summary
Reviewer
Review Date
Reviewed Item
Dunlop Biomimetic F 3.0 Tour
Author Rating