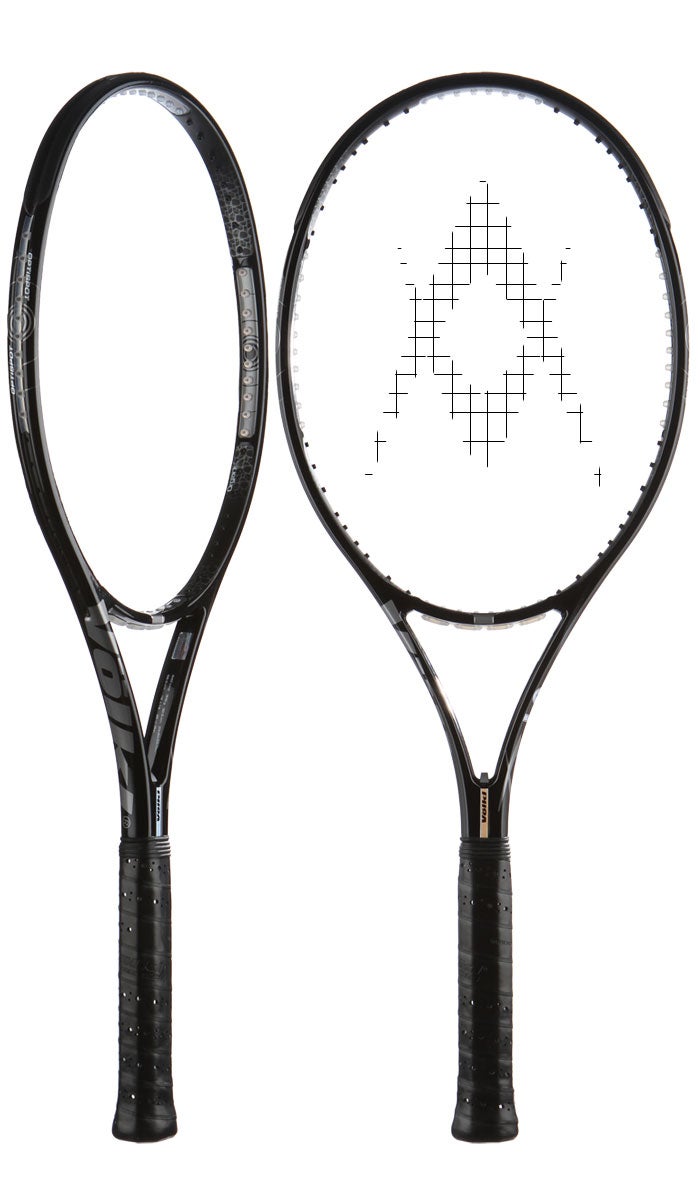 Volkl V1 Pro Racquet Impressions
I have been a Volkl fan for a long time. I was indoctrinated into the cult following after trying the original V1 midplus model. Every time I tried to break away, Volkl would come out without an updated version of the  midplus V1 and the German engineering gurus would suck me back in.
I was relatively V1 free for about the last year or so because the organix V1 was a nice stick but was too light for my current playing requirements. I prefer to play with a stock stick with little to no modifications. I was musing a month or so ago that if only the V1 came in a more robust package, I could be tempted back into the dark side.
Boom! The Volkls are at it again with the introduction of the Volkl V1 Pro: Sleek Black design, sweet 16 x 19 string pattern, 100 square inch head, new fangled Bio Sensor grip. Too much temptation for the racquetaholic / tennis junkie to resist.
Volkl V1 Pro string setup
The heritage of Volkl is that not only do they play well, but are designed with making the task of stringing the stick a simple and straightforward process. The Volkl V1 Pro has a slight deviation (from past models) in that it is technically supposed to be strung using the one piece methodology.
I was alarmed by that at first, but after careful inspection, the engineers left just enough wide sized grommet holes to do a two piece job (a must for hybrids) with some careful upfront planning(whew!) . The rest of it is a breeze to string true to its roots.
Volkl V1 Pro Playtest
The racquet comes in around 11.4oz strung with dampener in place and an overgrip installed. It is rated at medium power, but has über stability and a solid plush feel to it. Don't be fooled by the tweener weight, this stick will inflict some serious damage to an opponent in a bad intentioned NTRP 4.0-5.0 players hands.
Groundstrokes produced by the Volkl V1 Pro are very solid, and allow you to dictate the appropriate pace and targeted depth. The open 16 x 19 string pattern creates excellent topspin from both the forehand and backhand sides. With a full poly stringbed, the spin variations are very good, including slices. This stick oozes with all kinds of potential with it s flexibility in adapting to various string setups (poly, hybrid, syn gut) based one's unique tastes. I was able to drop shot and lob my opponents to their dismay with my preferred full synthetic gut string bed.
Volkl really did a fine job with designing a players kind of stick without the weight being too cumbersome. The stability and plow through are impressive, the trade-off being the maneuverability is good, but not great. Singles matches went well; the racquet can absorb heavy spin and pace even on service returns. Counter punchers will like the responsiveness and revel in the redirection of shots with quality depth, pace, and placement.
Volkl V1 Pro Doubles Suitability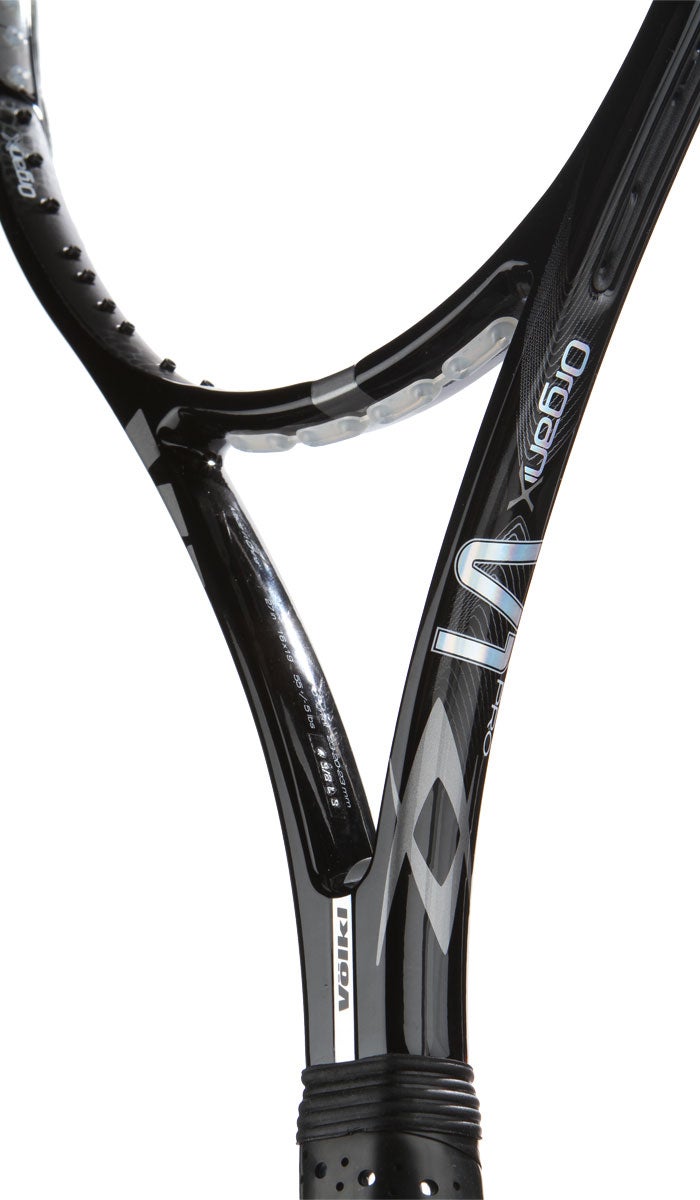 The Volkl V1 Pro does an admirable job of performing for the singles player. I always prefer to evaluate a product that includes testing its performance in a doubles match play environment. Volleys are crisply executed even when you are defending fast paced groundies as well as being engaged in a forceful volley exchange. The combination of control and power is impressive on overheads. I was able to smash some overheads with impunity from inside the service box. When you are required to let the ball bounce from within no-mans land and still have to hit a forceful overhead, the stick is well up to the task. Volkl is to be lauded for creating a tweener that can really deliver solid serves. First serves can deliver plenty of pace on command. Kick serves, slice serves are aptly performed and one can readily keep the opponent in check with the racquets' good control and placement versatility. Easily one of the best serving racquets currently available versus the competitors' offerings in the same category.
Volkl V1 Pro Summary
Excellent racquet for both singles and doubles play. Great control with more power.
Solid platform for fine tuning your string combinations and customized setups.
Highly recommended for the NTRP 4.0-5.0 player, Definitely will add it to my wish list.
Take one out for a thorough demo and be prepared to kick butt!
Volkl V1 Pro racquet specs:
Head Size: 100 square inches
Length: 27 inches
Strung Weight: 11.3 oz
Balance: 1 pts HL
Swingweight: 317
Stiffness: 68 RA
Beam Width: 23mm /20mm /23mm
Power Level: Medium