When I first received the Yonex VCORE Duel G 97 (310g), I was a little skeptical, the lighter weight and the not-so-common string pattern had me a little concerned. The Yonex VCORE Duel G 97 (310g) has a "just between" string pattern of 16 mains and 20 crosses and felt a little lighter than what I prefer in my tennis racquets. I did notice, however, that the frame construction gave it a very solid feel. I was pretty excited to hit with this tennis racquet and to review it. Keep in mind this is not the tennis racquet that Stan Wawrinka plays with, he plays with the Yonex VCORE Duel G 97 330g.
Yonex VCORE Duel G 97 (310g) review: Stringing Impressions
I knew ahead of time that the tennis racquet had shared holes at 8T, 7H, and 8H; so having that in mind I didn't let myself get confused with the additional cross string (20th cross) that is shared.
The Yonex VCORE Duel G 97 recommends a one-piece string job, though I opted for a two-piece with Y-Tex Quardotwist at 48 pounds on the mains and 50 pounds on the crosses (I like the additional control with a tighter cross but keeping the power from the mains – it's totally cool, trust me).
After stringing I was ready to go! Unfortunately, Southern California decided to rain on the evenings I wanted to go out for a hit. I had to wait a few days for the storm to pass and the courts to dry.
Yonex VCORE Duel G 97 (310g) review: First Hitting Impressions
Mind you, when I finally was able to get out on court it had been a while since I had played with any seriousness and with a tennis racquet review in mind. Nevertheless, I kept my intentions to give it my best shot and have fun!
The first few swings with the Yonex VCORE Duel G 97 felt a little awkward. The frame, coming in at 310 grams felt pretty light. I was used to my Yonex EZONE Ai 98 that has been modified to a heftier 330g (strung) so the Yonex VCORE Duel G 97 felt pretty feathery.
Interestingly enough, with even with the lighter weight of the racquet, I still felt that I was able to make great contact and timing with the tennis balls. I frequently hit the ball dead-center of the sweetspot and was hitting really quite big. The more I focused on timing the more the tennis racquet did what it was supposed to do.
As mentioned earlier, the frame felt solid even though the RA rating is at a nicely flexible 64; the solid construction of the Yonex VCORE Duel G 97 resulted in a comfortable, yet, powerful experience. I was able to generate a great deal of power with the lighter frame and didn't feel much feedback from the racquet in my arm. I was pleasantly surprised.
Yonex VCORE Duel G 97 (310g) review: Spin Production
I wanted to point out, that with the 16 x 20 string pattern, I figured I would get some spin but not close to what a 16 x 19 pattern would product. Again, I was pleasantly surprised when I was producing some great spin on my forehand and enough on my one-handed backhand to be confident in my strokes.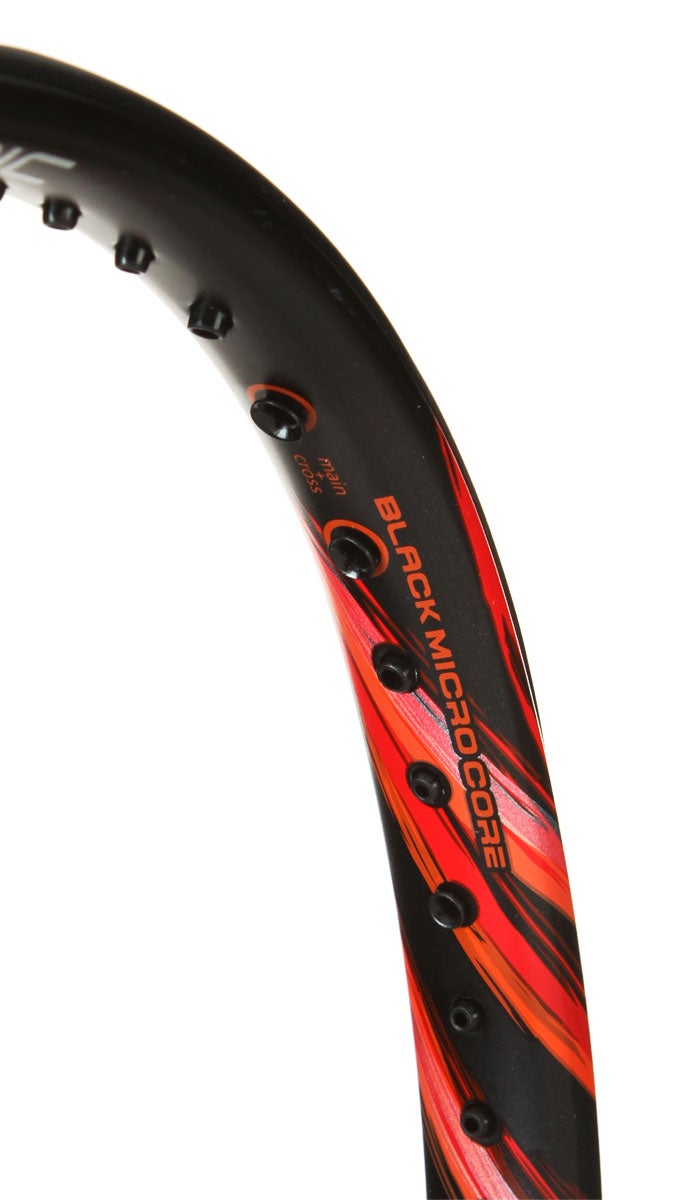 My forehand produced some very impressive short angle cross-court forehands that would move really nicely through the court and continue moving away from the court and my hitting partner. I absolutely loved the headlight balance (7 points headlight) of this frame as it really gives an edge to spin production.
Even though the Yonex VCORE Duel G 97 did not give me "kicking" topspin, it did give enough to hit the ball with enough confidence to hit deep let the ball drop – not every time, but enough to make it memorable.
Yonex VCORE Duel G 97 (310g) review: Control Review
More often than not, I'm a little all over the place when hitting with a 16 x 19 string patterned tennis racquet. Though with the Yonex VCORE Duel G 97, I was very very impressed with the ease of ball placement. I was able to send the tennis ball down the line easily or cross-court with a little bit of good footwork and timing. The spin + control let me place it where I wanted it.
On groundstrokes the Yonex VCORE Duel G 97 was great for control, though with the serve it was another experience. It was incredibly difficult to place my first or second serve in the corners or down the T; I was able to do so a handful of serves but not as easily would have liked. My serves, while quick, were predictably landing in the center of service box which resulted in my partner hitting strong, deep returns that put me a little off balance.
Yonex VCORE Duel G 97 (310g) review: Final Review
This tennis racquet is definitely one that every player should try. It does a lot of things very well with very little not so well. The 16 x 20 string pattern didn't reduce the amount of spin production but added a good amount of control.
The lighter weight and headlight balance wasn't something that deterred me from enjoying this tennis racquet, though I would have preferred a bit of extra weight to begin with. I never felt like I had to make an extra effort to get the ball to move off the stringbed, but I didn't really feel the swingweight on my strokes.
I would absolutely recommend the Yonex VCORE Duel G 97 for all levels of players, especially those looking to get additional control without having to jump to a racquet with an 18 x 20 string pattern. I also recommend this racquet to players who are looking for a solid feeling racquet with enough flexibility to lessen the chance of arm injuries that come from stiffer frames.
Click Here to Purchase the Yonex VCORE Duel G 97 310 grams
Click Here To Read Additional Racket Reviews
Click Here To Read Tennis String Ratings
Summary
Reviewer
Review Date
Reviewed Item
Yonex VCORE Duel G 97 310g
Author Rating