*This Yonex VCORE Pro 97 310g Review was reviewed by TennisThis.com friend, Jordan W.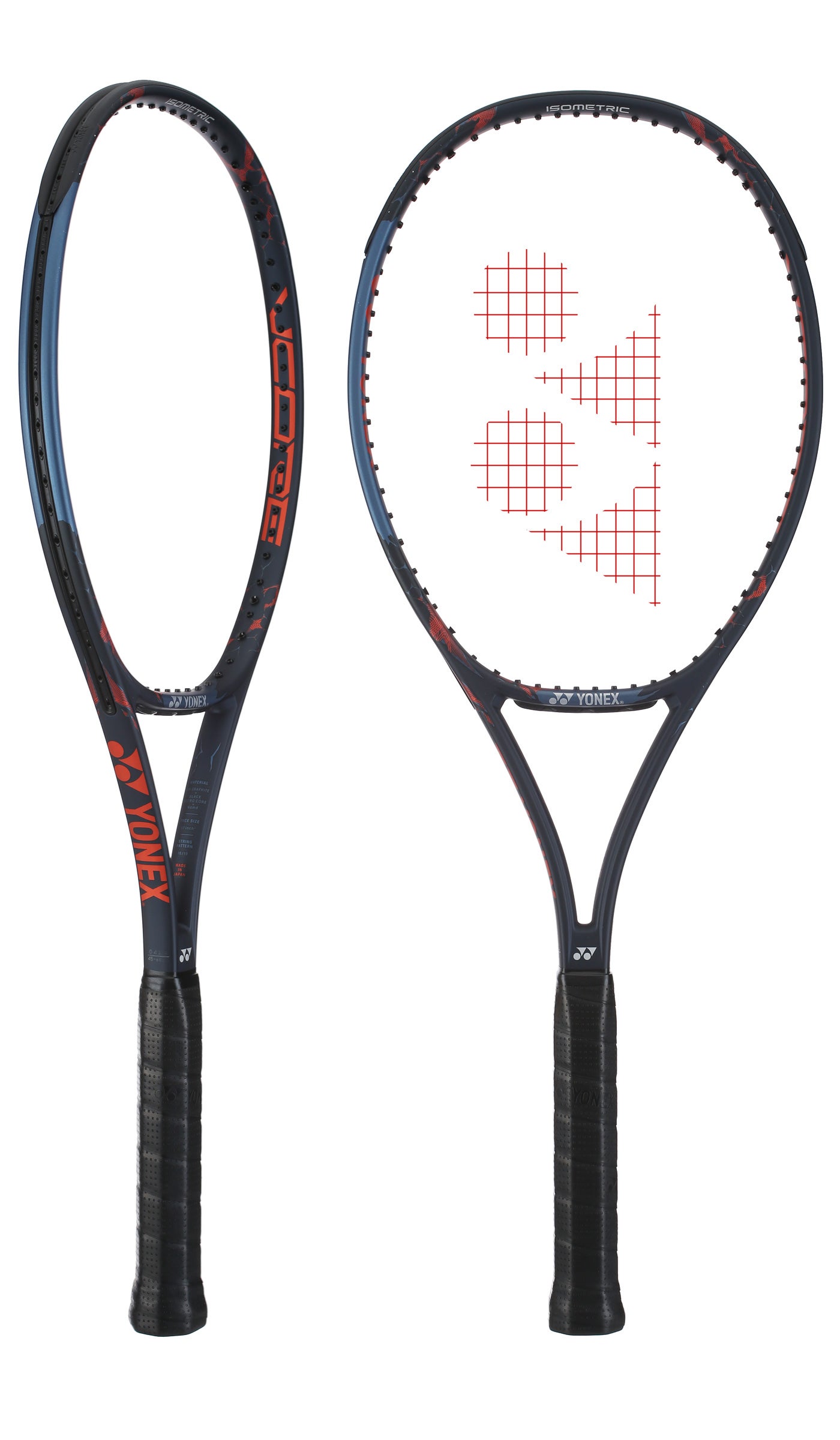 This year's VCore is another excellent overall offering from Yonex. I have pretty limited experience with Yonex sticks, but was excited for my first extended playtest with one. For a point of reference on the review, the 310 comes in at 11.5oz, 7pts headlight (strung), with a stiffness rating in the mid-60s, but a nice manageable swingweight at 317. It has a standard 16×19 string pattern and I had it strung at 50 pounds with Volkl Cyclone (my go to string).
Yonex VCORE Pro 97 310g Review: First Impressions
Let me start off by saying, this year's Yonex VCORE Pro 97 310g is an absolute hammer. For the pure baseliner, this stick is a dream. I was bombing big first serves and ripping big strokes off of both wings. The racquet offers solid spin potential, but is much more rewarding on flat shots. The very manageable swingweight made it easy to play with for hours. This year's Yonex VCORE Pro 97 310g's sweet spot feels like it has no end. I would string it slightly lower than the 50 pounds and I think it would open up the sweet spot even more. All that being said, the racquet does require solid technique. For the advanced-intermediate baseline player, with a full  stroke and good footwork, this racquet is an excellent choice. There isn't a ton of free power, but with good preparation you can absolutely hammer the ball. This is very much in the vein of modern player racquets. It's a thin beam, but it plays firm.
Yonex VCORE Pro 97 310g Review: Thoughts after playtest
On serves the racquet swung quickly and solidly. I was very surprised with how little the racquet wavered with such a low swingweight. With how the racquet carries its weight, it made hard flat serves a breeze, pushing through the strike zone and gave great bite on kick and slice serves with its fast swing. I'm more of a big target server, but I felt very dialed in with the 310. At the net the Pro 97 is point and shoot to its core. The racquet does all of the work and easily pushes the ball deep into the court. Yonex again has made a racquet designed to put the ball away. The large sweet spot cut down on flutter, but against bigger hitters the 310 wasn't the most stable racquet I'd ever used.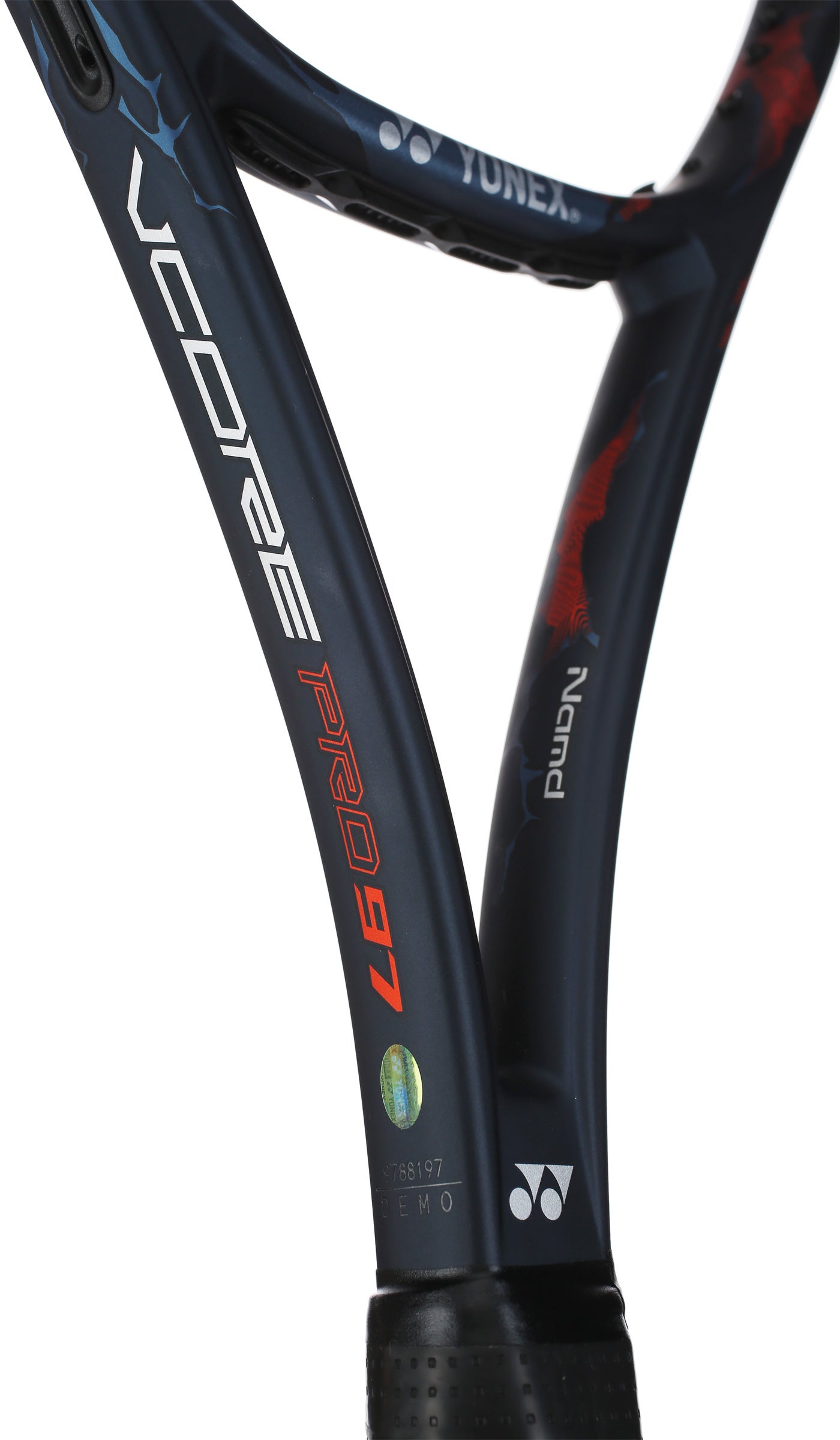 For me, the racquet had one major drawback. It played stiff and as someone who has struggled with arm problems of all different kinds, I got warn down quickly on days where I wasn't fresh. I couldn't do back-to-back long days with the VCore. All that said, I had some friends play sets with the racquet and they had zero arm pain after.
Yonex VCORE Pro 97 310g Review: Final Thoughts
Overall it was a very fun playtest. The 2018 version of the Yonex VCORE Pro 97 310g is a baseliners dream, but lacks some in touch and comfort. The modern playing 3.5, and above, will be able to really unlock this racquet's power and spin potential with full, long strokes. I would definitely recommend this racquet to anyone looking to juice up their game from the baseline.
If this racquet sounds like something you want to try out, click here to pick up a Yonex VCORE Pro 97 310g at Tennis-Warehouse.com.
Click to read additional Tennis Racquet Reviews