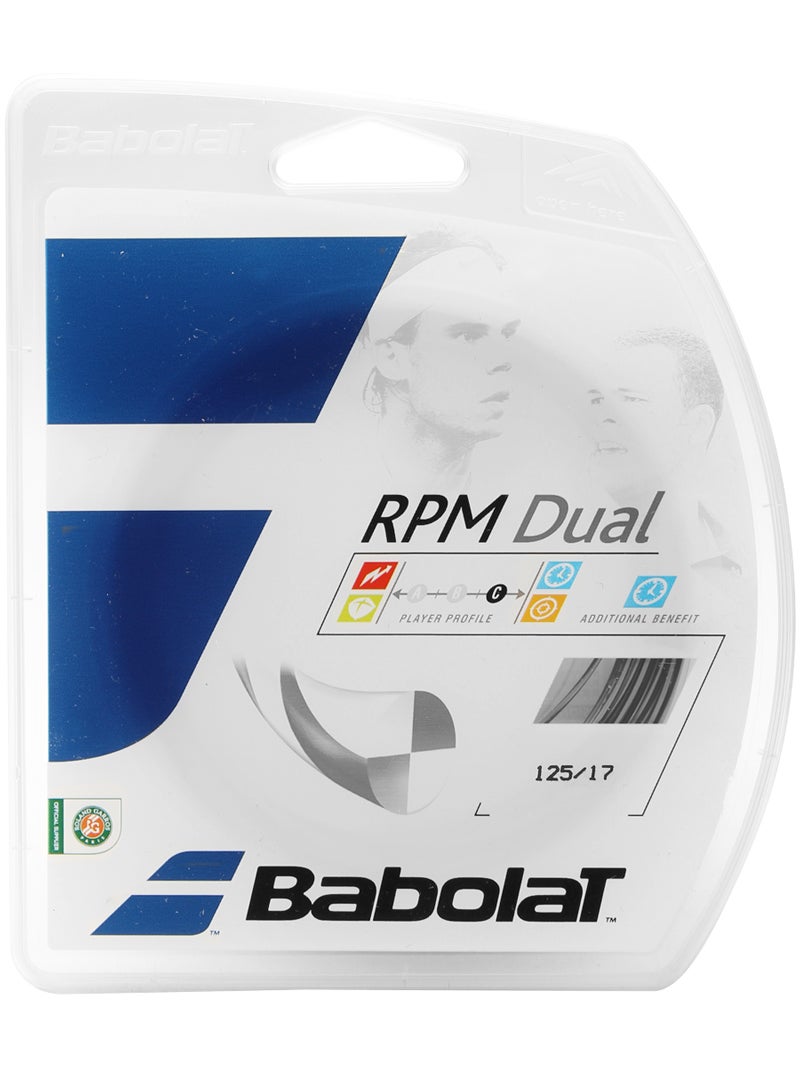 Babolat RPM Dual is the latest string from the French manufacturer. Babolat is no stranger to being innovative with their tennis products, they've developed some popular items to the world of tennis; with the introduction of the RPM Blast string, the AeroPro racquet, and the Pure Drive model, the world was won over with the 'spin obsessed' company. With the development of the Babolat RPM Dual, I was jazzed to see what this new polyester tennis string could to do!
Stringing with Babolat RPM Dual 17
This was pretty much a nightmare. I kid you not, this was by far the absolute worst string that I have ever had to install in a tennis racquet! I almost always do a two-piece string job with polyester at equal tension, it's just a preference of mine (I also prefer the feel of the stringbed), the Babolat RPM Dual gave me so many problems the moment I opened the package. The coil memory was so deep ingrained in the string that it was nearly impossible to unwind; I could not get the string to straighten out to measure and cut for my mains and crosses. I was getting incredibly frustrated just from this. I finally was able to get the stringing process started. The stringing process was a challenge, probably one of my most challenging string jobs; nevertheless I pressed on. The firm structure of the string, coupled with the coil memory, made weaving without kinking the string a challenge.
I was finally done, I pulled 46 pounds (roughly 21kg) of tension and the string bed felt rigid and a bit too tight. Either way, I was relieved that I was done stringing and was ready to hit!
Play testing Babolat RPM Dual 17
Let me start this part of my review by saying this, the twist of the white and black color combination of the tennis string makes it look weird; almost as if I had several missweaves. It threw me off and I didn't feel comfortable having it in my tennis racquet.
Babolat states the following about their RPM Dual tennis string
IT'S THE IDEAL STRING FOR PLAYERS WHO WANT FABULOUS TOPSPIN AS WELL AS LONG-LASTING TENSION HOLD.

The Twist System technology provides excellent tension hold. The combination of a high-density co-polyester and a titanium co-polyester improves resistance to abrasion to ensure greater durability. The cross-linked silicone coating provides better ball "bite" for enhanced spin.
When I got to hitting with Babolat RPM Dual, I could feel the firmness of the tennis string, so far it was stiff and low powered. When I went through my warm-up and starting hitting at full pace, Babolat RPM Dual showed me what it could do.
The string was designed for spin (as stated above), unfortunately, the spin production was a little lackluster. Sure, I could spin the ball, though I feel that was mostly due to technique and string pattern I was using at the time (16×19). There wasn't that 'bite' on the receiving end when I hit with topspin. The ball just did not kick or accelerate when it landed at the other end of the tennis court, it was just kind of flat and normal…nothing special.
Where the Babolat RPM Dual did exceed my expectations was control. This string is all control baby! The ability to place the ball with this string installed was like nothing I've tried before. I could place that ball on any target (within a foot or so) with complete ease. Changing direction was a definite highlight of this string; from time to time I would get into some cross court exchanges with my partner, after a few CC balls, when I wanted, I could change the direction to down the line (or close to it) with little effort. Usually this resulted in a short ball or an outright winner. Definitely a huge plus when you want to run your opponent around. Though this tennis string doesn't have a lot of power, the control outweighs the lack of power.
One thing I noticed about the Babolat RPM Dual during my review process, was the tension. The Babolat RPM Dual holds tension exceptionally well! Polyester tennis strings normally lose quite a bit of tension after your first hitting session. Sure, I lost some tension within the first hitting session with Babolat RPM Dual, but it wasn't enough to make the strings feel lose or mushy. It was a smooth loss of tension, to the point that the strings played consistently during their lifetime.
Remember how I said that the string was rigid earlier? The rigidity of the Babolat RPM Dual translated to a sore arm. It is a very stiff tennis string. I warn players with any arm problems to consider this. The stiffness of the string gives extra durability, which is good, but there is a price. I highly suggest dropping 5 or more pounds of tension and/or using in a hybrid with a multi or a soft synthetic gut.
Final thoughts on Babolat RPM Dual 17
Even though the stringing process and lack of spin gave me the wrong impression, Babolat RPM Dual made up for it in control, tension maintenance, and durability. I think Babolat could have a good string in their line of polyester tennis strings, but I think they missed the mark with the spin factor (perhaps come back with a shaped version).
Give it a try if you like control and have a strong arm, it's all good there!
Summary
Reviewer
Review Date
Reviewed Item
Author Rating