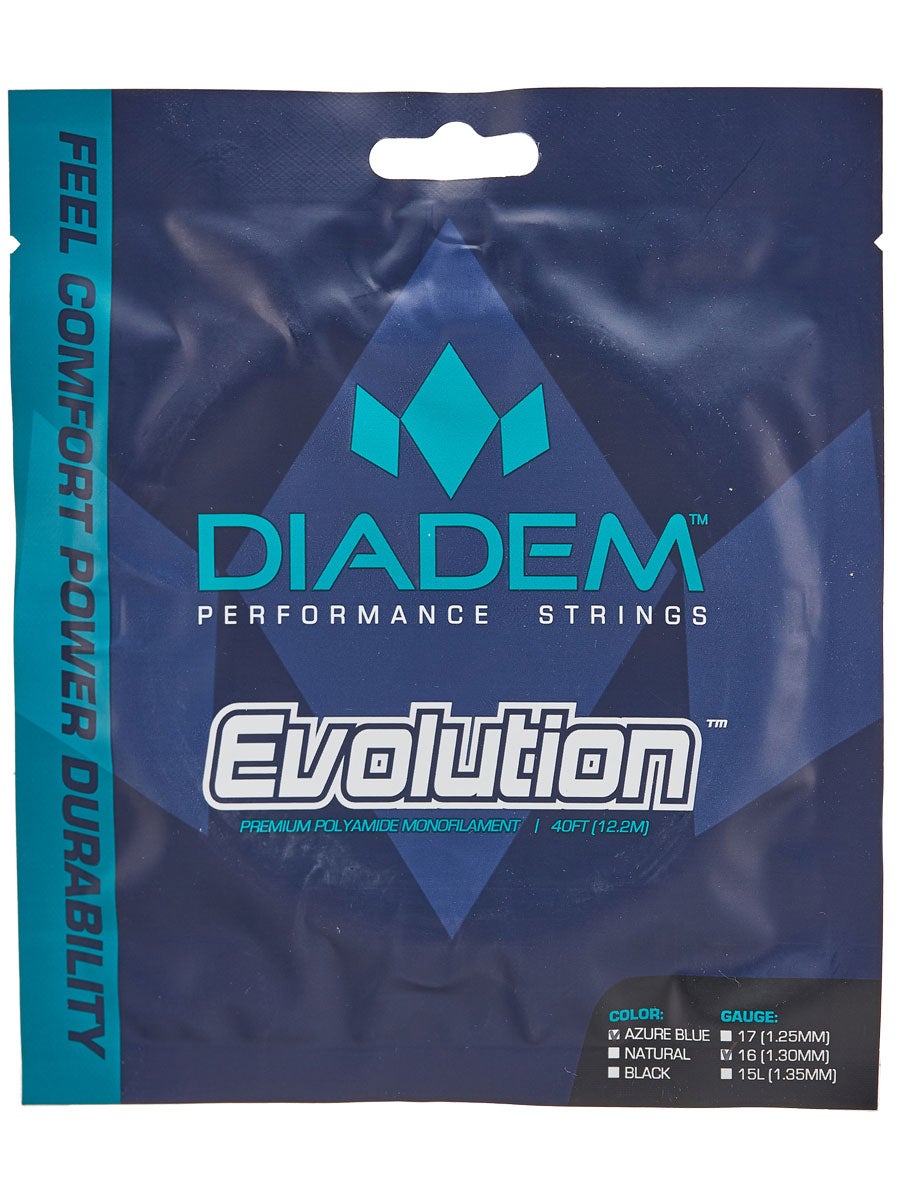 Diadem has been a reasonably well known string company for a while now, but this was first run around with a set of theirs and Diadem Evolution was certainly a solid offering. With a powerful and comfortable response, this is a great choice for the improving or aging player looking to add a little pop to their game without sacrificing too much on the control front.
Diadem Evolution is a polyamide monofilament, so it's in the poly family, but the plastic the string is made of is unlike any poly I've ever hit with before. The string is incredibly soft and pliable, almost to the point of a natural gut. It strung pretty normally, but do watch out for kinks and notching when you pull it through because of how soft the string is in my Wilson CLASH Tour.
Diadem Evolution: Playtest Review
For performance, Diadem Evolution was a little low in control, but when you compare it to how much pop it had, I was pretty impressed. I wasn't going after as small of targets as I usually do, but I also wasn't getting a trampoline effect or spraying the ball willy-nilly. Spin was pretty impressive, especially in the early stages of life, but the string began to lose some of its snapback around the four hour mark and I began to notice a drop in spin potential.
To clarify though, it went from some of the better spin I've ever gotten to pretty average spin, but that significant a drop was certainly jarring. I didn't feel super connected or accurate with touch shots. That mostly stimed from this being a much more powerful string than I'm used to. I think I could get there with it, but it would take a few more sets of Evolution to do it. Ball pocketing felt comfortable and great, but even with the deep pocket, dwell time was still fairly short.
The big knock for me on this string is the durability. It had its big tension loss pretty early on, maybe the 20 minute mark. At the hour mark, it started to notch, but after that started to notch deeply and really move around. At the sweetspot the tennis strings would be so far to the side that by mid-point it was like playing with just the crosses.
The cosmetic on this tennis string is awesome! It comes in three colors, Azure Blue, Black, and Natural, I played with the blue, and the color was super awesome. Cosmetic is never the first thing I look at when picking a string for actual play, but it's also not the last thing I look at. If you're swinging something from the Wilson Ultra line, or even one of Diadem's racquets, this string would be a super cool combo.
Overall, this was an obviously quality string that just didn't quite suit my game style. I rely on my string to help me reign in my big swing and to not take away from the touch shots I rely on net. This string will be great for improving players, especially smaller framed juniors who have good technique, but want to add a little more zing off the ground. I think players who are starting to have arm issues will benefit from this string as well.
Diadem Evolution Ratings:
Overall – 7/10
Control – 5.5/10
Comfort – 10/10
Power – 8.5/10
Spin – 9.5 (freshly strung), 5 (1.5 hours of hitting)
Durability – 4/10
Check out Tennis-Warehouse for a set of Diadem Evolution
Latest posts by Jordan Winn
(see all)