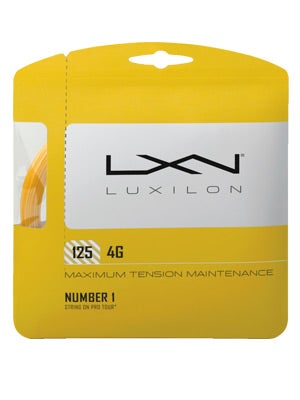 The Luxilon 4G is the latest polyester tennis string to come from one of the most used brand on the ATP and WTA tour. I had the opportunity of receiving an advanced copy of this golden colored co-poly string called 4G. I was pumped and ready to install the Luxilon 4G in my racquet to see what kind of playability I could get from it.
Upon first inspection, the Luxilon 4G felt amazingly soft and malleable in my hands. When installing the 4G, the smooth coating help the stringing process along quite nicely. I did not encounter any problems weaving or tying off the string. The Luxilon settled nicely and I was ready to get out on court to get some hitting in. I opted to go with a reference tension of 46 pounds in my Donnay X-Dark Red 94, hoping to get a little extra pop from the low powered strings.
Luxilon 4G playtest
Honestly, I was pretty impressed with the 4G. After I got warmed up enough, I started hitting fully speed; I loved how soft the strings were. I'm no stranger to arm problems (mainly shoulder), so I was pleasantly surprised with the soft stringbed. The problem with the Luxilon 4G's softness was that it created somewhat of a  muted sound when making ball contact. It was weird, with many of the strings I have reviewed, the sound of the ball coming off the strings "POPPED," but the 4G sounded sluggish. I never really felt like I was hitting big, powerful, groundstrokes. Though, it wasn't the case if you were on the receiving end.
My practice partner struggled immensely with the depth and weight of the tennis ball that was coming from the stringbed. He said it felt like I was hitting the ball harder than he had previously experienced. This was not a string that would automatically give me the power, I had to work for it. My smoother swings were rewarded with controlled shots, where my aggressive swings would result in fast paced balls penetrating the court. I was in doubt. I gave my friend my tennis racquet so I could experience what the effect of the Luxilon 4G was having. I was really quite impressed. My friend, who hits a much flatter ball (less spin) than I do and I have to say, the ball that was coming at me was nice and penetrating, with some good weight to his groundies.
Surprisingly, the Luxilon 4G provided me very little spin. Even when I tried to hit with more topspin, the ball would spin, but it just didn't have that ripping feeling that I have enjoyed with previous playtests. It's not like I couldn't get any spin, it just wasn't a lot of revolutions when I would go for a topspin forehand or backhand. I just was not loving the lack of spin.
One characteristic of the Luxilon 4G that stood out the most for me was, even at a lower tension, the string would not move at all. Seriously, no matter how hard or how sharp of an angle I would come up on the ball, the string wouldn't budge. Even after 6 hours, the 4G stayed put. I was really quite impressed with that.
Luxilon says that the 4G has supreme tension maintenance, "As for tension loss, 4G was specifically designed to hold tension longer." I found that the tension remained consistent through most of my playtest. I measured string tension after stringing and again after hitting for 4 hours. I had only dropped about 5% of tension (roughly 2.5 pounds). Because the strings didn't loose much tension, I was able to continue to get the impressive ball bite that would rocket the ball off the stringbed when I swung with the intention to hit hard.
The low power that the 4G offers really helped out when I wanted to get some placement shots going. With the string being so low powered, on smooth strokes I was really able to control the ball fairly well. If I wanted to go down the line, all I had to do was smooth everything out and guide the ball down the line. It was really a piece of cake.
Final thoughts on Luxilon 4G
The more and more I've played with this string, the more I liked it's characteristics. The tension still remains in tact, the playability is still there and for the coming hitting sessions, I plan the keep the Luxilon 4G in one of my racquets. It's overall  a really nice offering from Luxilon. An absolute must try if you're looking to get additional control and are in search for a comfortable co-polyester tennis string.
Based in sunny Southern California, raised in Argentina & USA; lover of all things tennis, USRSA Master Racquet Technician (MRT), ATP/WTA Pro Level Stringer; reviewer of tennis strings, tennis racquets, and any interesting tennis gadgets I come across. Plays NTRP 4.5 singles and some doubles. Singled handed backhand with a wicked affection for cured meats and Asado.
Summary
Reviewer
Review Date
Reviewed Item
Author Rating