Luxilon Element Tennis String Review
I'll start with the cosmetics of the Luxilon Element, before I even talk about how well it played. Holy heck this string looks incredible. The glossy copper looks is awesome enough that even if this string played terribly (which it definitely did not), I would still keep a racquet string up with it.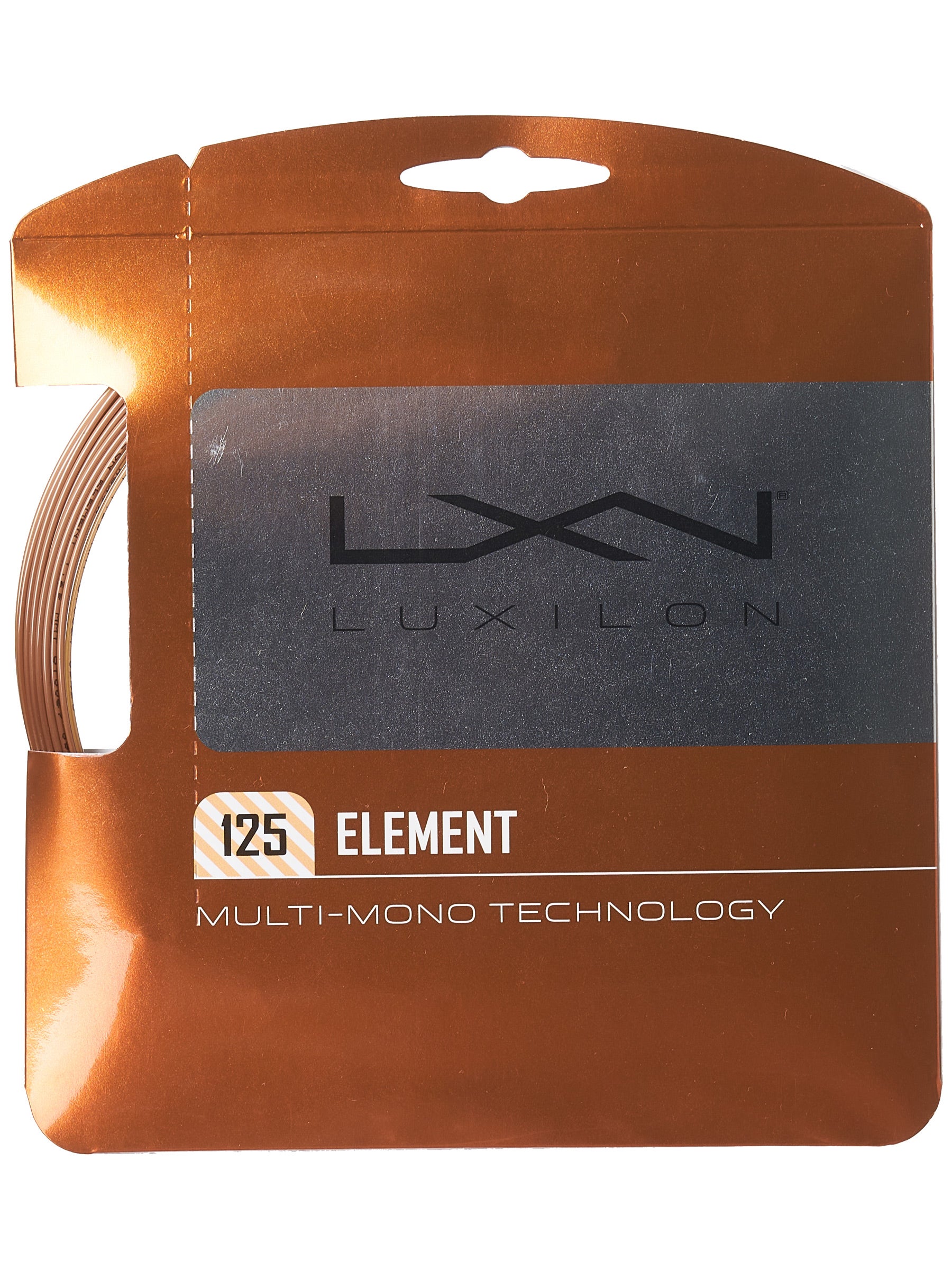 This is the first Luxilon string I've spent more than a few minutes with, the quality is immediately obvious. The string needs no break in, offers a nice mix of controlled power, and really allowed me to play my game while complimenting my racquet.
I felt super dialed in the whole time, from the very first hit. I usually feel like polys need about 30 minutes to settle in, and lose whatever tension they're going to before they really start to hit well, but Element came out firing. With great control and above average spin, I was aiming for smaller and smaller targets and kept hitting them. I got to play lots of offense, but when I was on defense, I had plenty of access to power to knock, block, and chip the ball back deep.
I played for two hours with some pretty big hitters and never felt like there was that drastic tension drop that poly usually has. The string definitely felt like a slightly firmer poly, but not in comfort, just in response.
Tension loss came at about two and a half hours and when it went, it went. Lost a little bit of control, but nothing crazy. There was Definitely more pop from the string after it lost tension. This is definitely a string you could put in nice and low and still get great performance.
At the net, it was crisp on deep put away volleys, but still allowed for good control and touch when dropping the ball short or just taking pace off the ball.
I strung it up in my Wilson Clash Tour 100 at 48 pounds and really felt like the two complimented each other perfectly offering spin when I wanted, power when I needed it, and all the comfort a hack like me could ask for.
This is definitely one of my top three strings and 100% the string I'll be using in tournaments. It's got a decent price tag though ($15.95USD), so probably won't be my go to for everyday use.
For how it actually strings, I'll again defer to the GOAT
Luxilon Element Tennis String Review: Stringing
GOAT here, installing Luxilon Element wasn't any different from all other smooth Luxilon tennis strings. It was very easy and straightforward to install. I did notice, though, that the smoothness of Luxilon Element did kind of "burn" the skin on my fingers.
Weaving was a breeze, the smoothness of the string really made it very easy to pull the slack though with no issue. My knots tied up easily and straightening was no big deal. All in all, it was a painless experience to install Luxilon Element.
Latest posts by Jordan Winn
(see all)
Summary
Reviewer
Review Date
Reviewed Item
Luxilon Element 1.25mm Tennis String
Author Rating