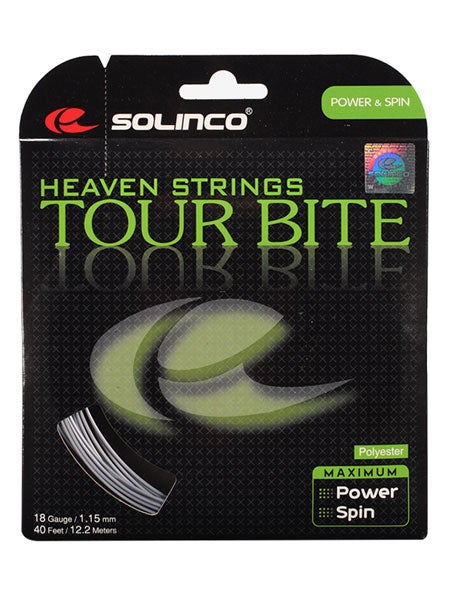 I was fortunate enough to receive a couple of sets of Solinco Tour Bite 19 to review. I have heard a lot of positive feedback about this poly tennis string, so you can imagine I was pumped for the opportunity to hit with it. Because the Solinco Tour Bite I got was a 19 gauge string (very thin), I figured I would only get a few hours of play before they snapped.
Stringing Solinco Tour Bite 19
I spent a little time looking at the tie-off holes grommets of my Donnay tennis racquet, just to identify any grommets that might have been widened from stringing. Because the Solinco Tour Bite was so thin, I was afraid that I might pull the knots through the grommet; I opted for a bulkier knot for extra measure.
Stringing this thin polyester was extremely easy and quick. I didn't really have any issues during the installation process. Solinco suggested that I string -4 lbs than I normally do; however, I already string in the mid 40's, so it really wasn't necessary to drop my reference tension below that. I went with 44 pounds. Weaving was a breeze and everything was in order. The silver string looked pretty solid in my stick, I was anxious to get out on court to give it full ride.
Hitting with Solinco Tour Bite 19
Upon warming up with the strings, I recognized fairly quickly that this tennis string was going to be something that was going to perform exactly how I expected it to. During my warm-up (short court), I could feel the bite (hence the name) on the ball and how crisp the strings felt during impact. I kinda hurried through my warm-up so I could get full speed groundstrokes going as quickly as possible.
As soon as I was able to take full swings, the Solinco Tour Bite started to show me exactly why there is so much hype built around this string. Solinco Tour Bite is simply awesome. Nearly every shot that I hit was an absolute pleasure. 95% of my forehands were explosive with pace and spin. I would have to say that my forehand was the favorite with this string, the ball pocketed well and I could get comfortable pace with this thin poly. The spin was a plenty, lots of kick on my groundstrokes. My slices were lethal as they would stay very low over the net and skidding upon contact. Dropshots were extremely effective as the ball would "stop on a dime" and spin back a few feet.
Flattening out was not really something that I focused on, I had so much fun and success with the spin that there was no real need to hit flat. Though, when I did find the time to hit flat, the string proved that it could handle it and give me with the power that I needed to hit deep in the court!
As much as the spin production that the strings provided, I also want to point out to you that this string offers an ample amount of control and power. Even with the thin gauge, the strings allowed me to get the ball where I needed it with little resistance. Down the line or cross court, all I had to do was hit the ball well enough to get the strings on the ball and the ball would go where intended. Finding a string that offers this combination of power, spin, and control is hard to come by, especially when going with a full bed of polyester.
I did enjoy serving with Solico Tour Bite. The strings offer plenty of pop and spin so hitting my spots was easy. Hitting out with the lively string was sweet; I wouldn't say that I gained more than a few MPHs', though I did feel like I was hitting a heavier serve to my opponent. Kick and slice was purely enjoyable, getting the ball to kick up on second serves was fun. It was to the point of hilarity watching my opponent reach way above his shoulders to get to the serve, or watch him stand about 10 feet behind the baseline in an attempt to let the ball drop a bit. There were a few service games where I only hit "second serve speed" kick serves.
As my Solinco Tour Bite review carried on, I did notice that my arm was a little sore. I wasn't in any pain like tennis elbow or that kind of tenderness; I felt that my arm was more muscularly sore than anything else. That must have been from me feeling comfortable with this string and with that comfort, allowing myself to swing out and hit a big ball. I guess you could say that it was  a good sore.
Like I predicted when installing the string, I only got through a few hours of play before I busted a main (I always break the third main from the center). I was fully expecting this because it is very thin. With the sharp edge of the squared string, they cut into each other and notched quickly. The good thing though, was that Solinco Tour Bite held tension rather well up until breakage.
Solinco Tour Bite 19 Conclusion
It's no wonder that StringForum.net has named Solico Tour Bite as their "Poly Of The Year & Spin String Of The Year" two years running (2011 & 2012). This is a superb offering from Solinco and there's a reason for it's popularity with players like myself, it's just a great string…hands down.
The only flaw that I found was how quickly the string broke on me, I received two sets and both broke right around three hours. At just under $12, that's kind of pricey for string life. I would absolutely use this string again and again in a full bed, it's just that good…though I would opt for 18 or 17L gauge next time.
If you have not already tried Solico Tour Bite, I strongly encourage you to go out and buy a set as soon as you are ready for a restring. You won't be disappointed.
Solinco Tour Bite has the TennisThis.com stamp of approval.
Summary
Reviewer
Review Date
Reviewed Item
Author Rating