The new Wilson Blade 98 V7 16×19 is the real deal. You've seen our comparison article showing it against the Clash 98, but now we're getting into it.
The newest iteration of the Blade stands up with any of your favorites in the family, whether it's the N-Code, 2015, or the Countervail. With a combination of plow through and crisp, but still comfortable response, the Blade 98 was built for the experienced player looking to add depth and control to their game.
Wilson Blade 98 V7: Playtest Review
For a 16×19 pattern, the Blade V7 felt incredibly dense in the middle of the frame. This was great when I was able to step into the court and take the ball above net level. I felt super dialed in, especially on the backhand side (where I tend to hit the ball flatter than my right hand wing). The 330+ swing weight rewarded a full cut with a penetrating, heavy ball consistently landing beyond the service line. My forehand is a fair bit whippier, and I tend to like my racquets a little bit more head light, so I struggled to pick the ball up and over the net on standard rally balls where I was a step or so behind the baseline. However, against some flat hitters I play with, the inertia of the V7 kept me from getting pushed around.
I struggled at first on defense, but once I unlocked the mass of the racquet, I felt great on the run. For me, it's all about getting the tip of the racquet through contact with a high swing weight stick. So when I was running, I shortened my stroke and really threw my hands through the strike, allowing me to reset the point and find my court positioning. The 4-point headlight balance made for very stable slices and blocks, especially against big hitters and servers.
Transitioning to net was easy, and the Blade 98 almost encourages closing the court by rewarding step-in shots. Half volleys were a breeze and I never got any harsh vibrations from the racquet even on off-center hits. At net I quickly dialed in, for the exception of balls right at hip height. For whatever reason I kept knocking those balls long, but everything else at net was fantastic.
The stability and balance of the racquet were incredible for stretch volleys. Instead of being knocked off my spot, the ball seemed to glide just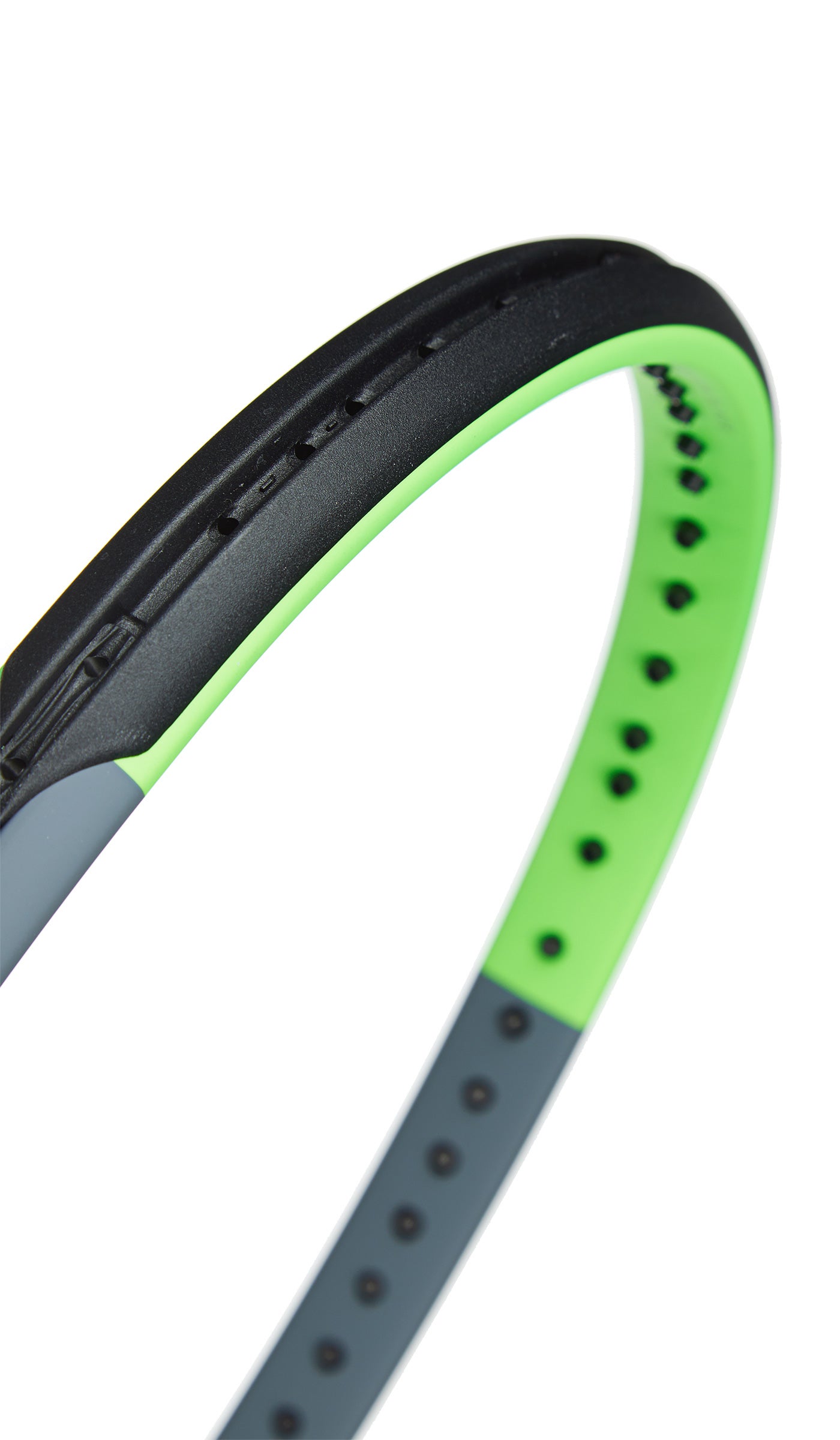 where I imagined it going.
High balls seemed to explode off the court and out of play making for easy putaways, even on those awkward high shots on the backhand side. I was easily able to absorb the pace of balls below net level and feather them well inside the service line and creating some wild angles on shots right up against the net.
Serves were as hot and cold as an April Missouri day. As bad as my kick and slice servers were as good as my flat serves were. I'm very accustomed to the flex of my Clash Tour, and my Prince Phantom 100P before that, on spins and the slight step up in crispness really affected my ability to hit my spots. The counter point, that 330+ swing weight that I keep talking about bludgeoned the ball on flat serves with pinpoint accuracy. I would say if you have flatter serves, it will be a great compliment to your game, but if you rely on big spin serves, be wary.
The cosmetic of the racquet really grew on me. I love the matte finish and the grey and green combo isn't as off-putting as the Clash is (admittedly that's probably intentional). The paint held up well, so overall no complaints, but not something that's a particular calling card either.
Blade 98 V7 Conclusion
Overall the Blade rocks. It's a super solid racquet all over the court that really shines and compliments a classic, aggressive game style. It's also very different than a lot of racquets on the market, so if you're playing with your Pure Drive, Instinct, or Ultra and just looking for something a little different, this racquet is 100% worth a try.
For this play test we strung up the Wilson Blade 98 V7  16x19with Luxilon Alu Power at 48 pounds.
If you would like to pick up a Wilson Blade 98 V7, you can pick one up from Tennis-Warehouse.
NTRP 4.0 player. Started playing at 10 and more competitively at 15 but nothing more than semi-local tournaments. Didn't play through college and have gotten back into the sport over the last three years and now play three to four times a week.
All court game with heavy top spin ground strokes.
Also enjoy coaching tennis.
Latest posts by Jordan Winn (see all)
Summary
Reviewer
Review Date
Reviewed Item
2019 Wilson Blade 98 V7 16x19
Author Rating