I've heard a lot of good things about Yonex Poly Tour Spin; a lot of people saying that the string provides lots of spin (hence the name) and offers some good pop. Obviously, I had to give it a try. If you've seen my tennis string reviews, you'll notice that I tend to gravitate toward polyester strings that offer spin, so this was the natural choice.
Yonex Poly Tour Spin 16L Review: String Installation
There are some tennis strings, particularly polyester, that are challenging to install into a tennis racquet. Especially the strings that are shaped, they tend to twist, kink, and cut into the intersecting string on the crosses.
Surprisingly, the Poly Tour Spin string gave me no such problems. In fact, I was able to install the string in a "Around the World" pattern without any issues at 48 pounds (21.5kg). The crosses weaved very very smoothly and the tie offs were nice and neat.
Yonex Poly Tour Spin 16L Review: Playtest
Once I got out to the tennis courts to give Yonex Poly Tour Spin a try, I was very eager to get through my warm up and get to hitting. During my warmup though, I did feel the strings bite onto the tennis ball and snapback -remember, snapback is what creates spin – into place. My warmup slices were delicate and skidded through the court nicely. I was ready to go full court and swing for the fences!
As soon as I got to full court hitting, I was immediately in love with Yonex Poly Tour Spin. If I wanted spin, it gave it without forcing the spin. The spin wasn't quite a lot like many other strings on the market (i.e. Weiss Cannon Ultra Cable) but it was a nice amount, enough to get the tennis ball to dip near the baseline. My backhand slices were an absolute marvel. If I wanted the tennis ball to sit up a little bit, I just had to get under the ball a little more. If I wanted to have an aggressive slice that would skid through the tennis court, all I had to do was hit a little more behind the ball. Yonex Poly Tour Spin did a lot of the work.
For the rest of my game, including volley's and serving, I was pleasantly surprised at how well I was hitting with this string. My volley's were crisp and absorbed a lot of the incoming pace from my hitting partner. I was easily able to drive the volley deep into the tennis court. Or I could simply just take all the pace and leave it short to either side of the court.
Serving was something special. I could really unload on my first flat serves, hitting my targets and getting enough of the line to pull out several aces. Kick and slice serves were not out of this world, but they were quite close. I could move the ball around pretty well, but I wasn't getting a lot of kick from the string. Slices had some good shape but the ball wouldn't follow with the side spin and continue its' path off the court.
Yonex Poly Tour Spin 16L Review: Tension Maintenance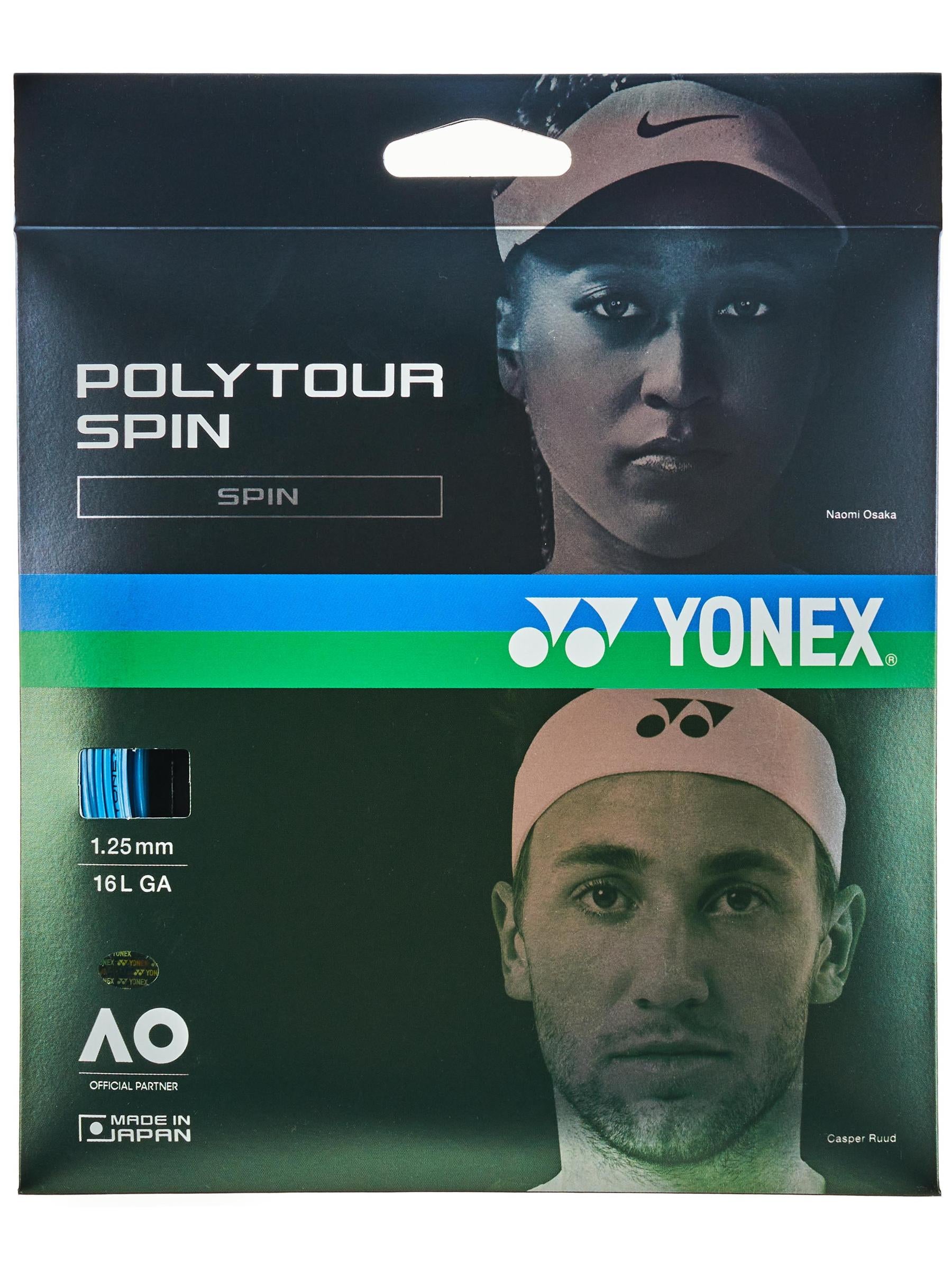 At the beginning, during the initial 2 hours of play, the strings felt medium firm. This wasn't too much of a concern because I was really enjoying the strings' performance that it didn't even cross my mind. However, after that 2 hour mark, Yonex Poly Tour Spin started to lose tension. That's when everything went south for me.
During my next session with the string, I could feel that I had lost roughly 6-8 pounds of tension. My arm was beginning to hurt from the increase in shock from the string.
I wanted to review the full gamut with this string, so I played through the pain. At a certain point, Yonex Poly Tour Spin became virtually unplayable. I had no depth control, spin was pretty much gone, and the feel felt really board-like. It's really unfortunate that the string lost so much tension so fast, I was really enjoying my initial experience.
Yonex Poly Tour Spin 16L Review: Conclusion
While this tennis string is great out of the box, I was not overly impressed with it. I enjoyed the string at the beginning but then it lost tension so quickly, that I had to cut it out.
The spin is nice and the feel is good. It all goes back to how long it lasts. This particular string  just didn't last for me. Especially for a $15 tennis string.
If you would like to try Yonex Poly Tour Spin, check out Tennis Warehouse!
Summary
Reviewer
Review Date
Reviewed Item
Yonex Poly Tour Spin 16L (1.25mm)
Author Rating