Wilson Clash Tour Review
The Wilson Clash Tour is my new racquet of choice
With a combination of power, comfort, and control with a very head light balance, the Wilson Clash Tour truly blends the best of all the worlds. It's as comfortable as any racquet I've ever hit, including pro Kennex, Prince O-Ports and Phantom line, and even some of the classic head frames, while still providing controlled depth and power
I like racquets that carry weight in the handle and throat of the racquet and the Tour does just that weight 11.5 ounces strung with a 9 point head light balance. Without trying to sound like an ad campaign, the geometry of the throat gives the racquet incredible stability despite very little weight in the hoop
Wilson Clash Tour Review: Playtest
When I play with the tour I constantly find myself aiming for smaller and more aggressive targets because I continue to pinpoint whatever I aim for. It's a fairly open pattern, but noticeably tighter than the 16×18 of my Prince Phantom Pro 100P. Switching from a racquet with a 330 swing weight, I tried the regular Clash 100 and felt like the ball lacked a the weight with its right at 11 ounce frame (310 grams) and 310 swing weight. At the suggestion of a friend, I tried the Wilson Clash Tour and it was everything I was looking for.
The tour comes in with a swing weight just over 320, but the super head light balance makes it play very fast and maneuverable but still offer plow through that you will struggle to find in the ~11oz family of racquets.
It's hard to say what facet of the game the tour thrives in most. Ground strokes were easy to hit, and produced heavy, penetrating balls. The racquet has the SW to redirect pace but has the maneuverability to roll the ball for tight cross court angles. The spin window is wide with a deep sweet spot which helps me feel super connected to the ball. Volleys were great too. The flex and feel of the racquet allowed for quick, penetrating shots while still offering a package that felt made for soft handed drop volleys. With the stability construction of the racquet, I would say that the deep, punch volleys are definitely where this racquet shines. Targeting, again, was very easy. Whether it was attacking a ball above the net or blocking the ball crisply, I pointed and it shot.
On serve, I felt like I could hit any target with any serve. I ripped slice serves pulling my opponent off the court, jumped kick served regularly above shoulder height (several feet behind the baseline), and popped flat serves seemingly wherever I wanted. The weight distribution makes for an easy to handle package that still offer massive pop and very fast swing path.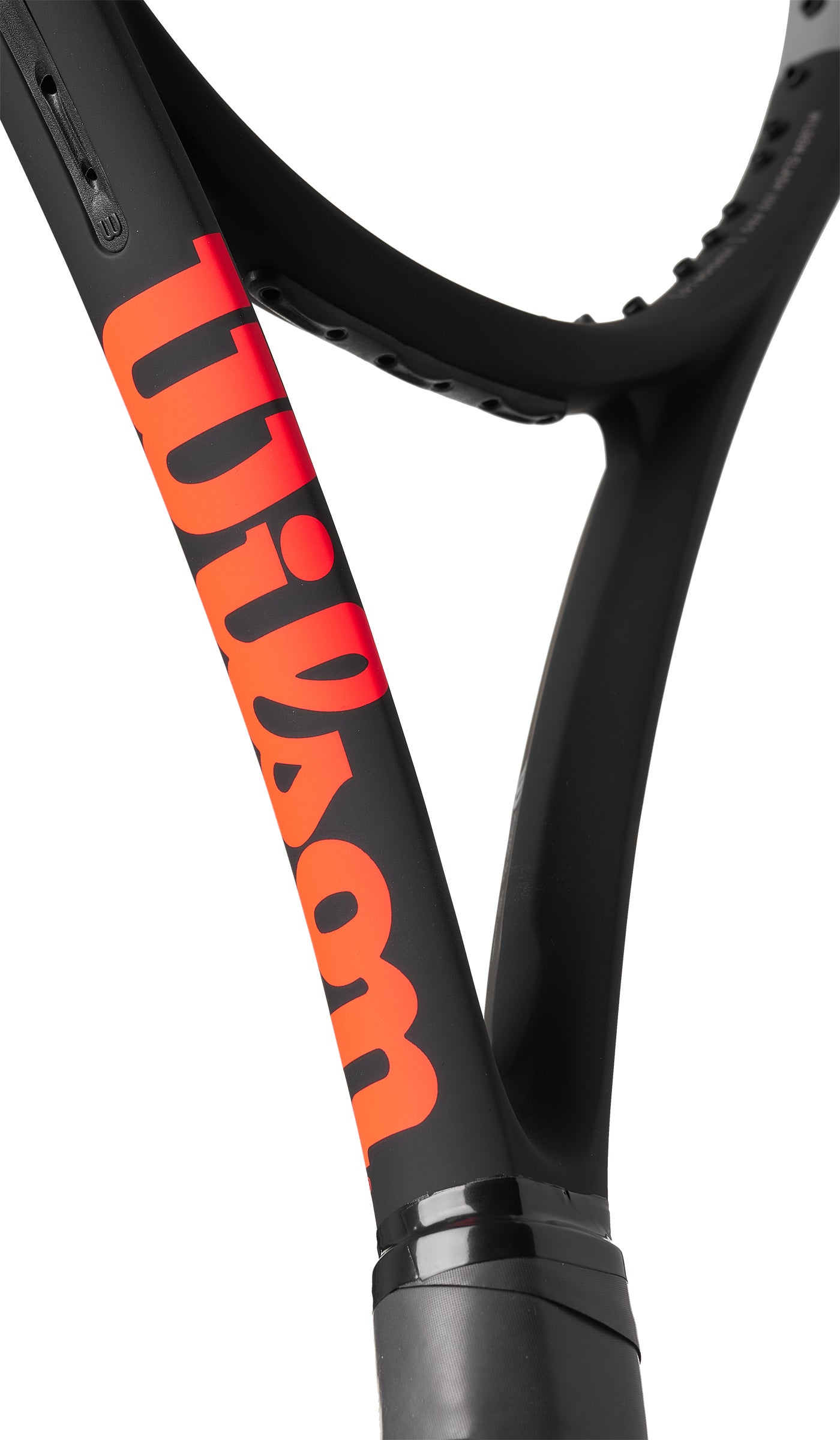 The only shot where the Wilson Clash 100 Tour did not shine for me was the backhand slice. Admittedly, it's not one of my best shots, but my Prince Phantom Pro 100P rips them in a way I've become accustomed too, and there was definitely a noticeable drop off. I feel obliged to come up with a second critique, so I will also say the paint job is kind of lame. However, I'm going to offset that by saying the matte finish looks great on it. I know there's a decent sized portion of the Wilson community cheering for a return to gloss, but for the Clash line, I'm good with the softer, more textured finish.
Simply put, the clash claims of being everything you could ask for are super real. If you haven't hit with a clash or Clash Tour, all I can say is demo one today. You might not make the switch, but it seamlessly blends everything that rec players ask for in a way that is extremely worth trying.
Wilson Clash Tour: Specs (Strung)
Head Size: 100 in² (645.16 cm)
Length: 27in (68.58cm)
Strung Weight: 11.5oz (326g)
Balance: 9 pts HL (31.5cm)
Swingweight: 322
Stiffness: 55
Beam Width: 24.5mm / 24.5mm / 24.5mm
String Pattern: 16 Mains x 19 Crosses
String Tension Recommendation: 48-58 pounds (21.5kg – 26kg)
Pick up a Wilson Clash Tour today from Tennis-Warehouse
Latest posts by Jordan Winn
(see all)
Summary
Reviewer
Review Date
Reviewed Item
Author Rating