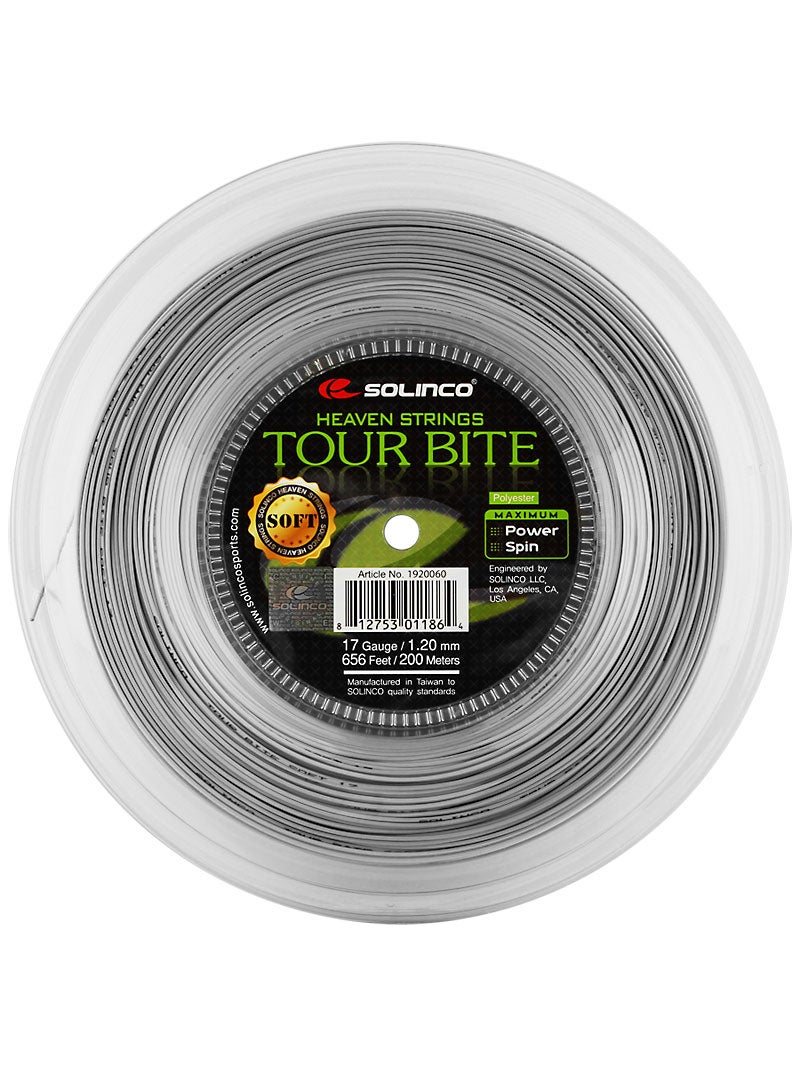 I had the opportunity to review two sets of Solinco Tour Bite Soft 17 tennis string, this being the softer sibling of the very popular Solinco Tour Bite. Like all poly strings that I get to review, I was pretty excited to test this softer version as the regular string left my arm a little sore. Hopefully the Tour Bite Soft was going to provide me with a soft stringbed along with plenty of spin.
Honestly, the first set of Tour Bite Soft that I strung up was a bit too loose for my liking. So this review is based mostly on the second go of playtesting at a higher tension.
Stringing Solinco Tour Bite Soft 17
I decided to give this softer string a go at 50 lbs of tension as a full bed in a Mantis Pro 295  – the first set I strung at 44 lbs but I found that stringing that low with this particular string was not the best tension range; I couldn't get a good feel for it. Just like the previous Tour Bite that I tested, these strings install really easily and painlessly. My knots were tight and I found no real issue.
Hitting with Solinco Tour Bite Soft 17
During my warm-up, I knew very early on that I was going to enjoy playtesting this string. I could immediately feel how comfortable this softer string was and I didn't see any apparent loss of spin or pop. This was going to be fun!
When I was good and warmed up, I started taking full cuts at the ball. The Tour Bite Soft showed me many of the same characteristics of the "non-soft" version of Tour Bite; lots of spin was easily accessible, it would send the ball zipping across the net with depth and some really nice kick to it! I was impressed.
There wasn't a lot this string could not do, for the most part it did as I asked to the best of it's ability; slice, topspin, side-spin, flat, yep it was all there. Just a softer response!
Because this string is designed to be softer, I was not getting much shock to the arm like I have with other tennis strings. The "soft" design was perfectly balanced by Solinco, not losing the all important control or power that many tennis players seek. With this string, I was easily able to put the ball where I needed to, though I struggled a bit with changing ball direction (that's more user error than string). I felt that I could get some decent pace with the Tour Bite Soft, not like the non-soft version, but a close second.
Serving with this softer string proved to be extremely easy. Because I could feel the ball better with this soft stringbed, I could put all sorts of spins on my serves. Even when I wanted to flatten out and go for a bomb, the strings would let the ball sink nicely into it's pocket. Just a pleasure really. My kick serves were the most impressive out of the list of serves I'm capable of; the strings already being designed for enhanced spin would spin that ball into the service box and just jump up really high into my opponents shoulder area forcing a return error.
Solinco Tour Bite Soft 17 durability
As I stated above, I went with 50 lbs for this setup. I got a good 7 hours of hard hitting (drills, rallies, points, full sets) before I lost a main. I noticed that strings did not really notch as much as other strings do, yes there was notching, but not crazy deep (this is good for spin producing snap back effect) notches. I would say that I didn't lose all that much tension during my playtest, I mean, I did lose several pounds of tension during "in racquet" life but the strings played exceptional during this time. I didn't notice much difference other than string movement.
Solinco Tour Bite Soft 17 conclusion
All in all, as much as I liked the softer version of this string, I prefer the standard version better. I like the crisp feeling of the standard version. The Tour Bite Soft is perfect for players who like the feeling of soft string that will still provide pop and spin but not injuring the joints. Obviously, if you like Tour Bite but found it to be a little too harsh, you should absolutely give this string a go, you won't be disappointed.
String tension note: If you are going to use Tour Bite Soft, I highly recommend increasing your reference tension by at least 4 lbs.
Summary
Reviewer
Review Date
Reviewed Item
Solinco Tour Bite Soft 17
Author Rating