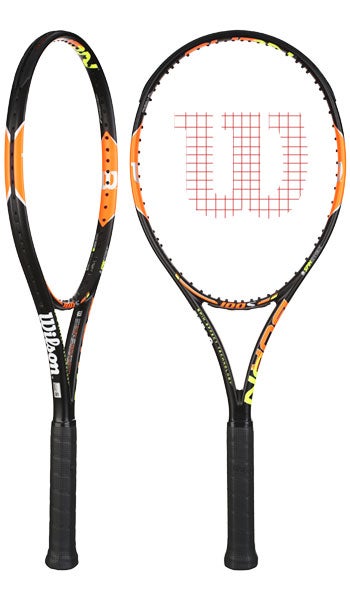 The Wilson Burn 100S is the latest release from Wilson to replace the very popular, spin friendly, Wilson Steam series tennis racquets. The Burn family of frames will consist of 100S (Spin effect technology), racket #2, racket #3, and a junior series of tennis racquets. Needless to say, I was very excited to test out the latest racquet from Wilson.
First Impressions of Wilson Burn 100S
When I pulled the frame out of the box, I was welcomed by a mostly black frame with some similar markings of the Roger Federer 97 series of frames; though the Wilson Burn comes with orange instead of red, with "100S" insignia marked at the throat. In my hands the frame felt very solid and complete. The Wilson Burn 100S comes in at 10.7 ounces (303 grams) making it a bit on the lighter side for my liking.
At first, I didn't notice the open string pattern as it closely resembles a 16 by 19 string pattern. The Burn 100S, uses Wilson's Spin Effect Technology boasting a spin friendly 18 by 16 string pattern. After closer inspection, the space between tennis string intersections appeared significantly larger than most 16 by 19 frames – I was pumped to see what kind of spin the Wilson Burn 100S was capable of, after all, if Kei Nishikori can crank some massive RPMs with a Wilson Burn…so can I, right?
Hitting with the Wilson Burn 100S
I didn't know what to expect with this tennis racquet, it comes stock a bit light for me so I was not sure that I was going to get the most out of the racquet. I generally enjoy the feel of Wilson tennis racquets, so I carried on. I went through my normal warm-up routine; half court, forehands, backhands, and finally full speed, and eventually some points with serving.
When hitting with the Wilson Burn 100S, it was obvious that the Spin Effect Technology was creating tons of spin, probably more than I had originally anticipated. It was really fun adjusting my grips on my forehand, where I naturally create spin, the Wilson Burn 100S was just ridiculous with the RPM that was generated. I was very impressed with the open pattern!
While the spin was pretty darn impressive, to the point of having the ball kick up significantly more than my usual 16 by 19 string pattern frame, I have to knock off a few points for a small factor of the ball launching off the stringbed at a crazy high angle – anywhere from 10 to 15 feet above the net. Yet, somehow the tennis ball found its way into the court! This high trajectory can be problematic for many players, including myself; it's likely many of the tennis balls will sail a little long until the tennis player is used to the launch angle.
Let me tell you really quickly about serving with the Wilson Burn 100S…I learned pretty quickly with this tennis racquet that there is no real need to hit flat with it. Seriously, all you need is some spin baby! With this frame, I was able to produce some of my most impressive kick serves; the ball was jumping off the service box at about head height of my tennis partner (he's about 5'10") and changing direction! Slice serve? Sure! The ball would carve sharply and deeply across the service box and sliding out away from my opponent. I really believe the Wilson Burn 100S is a tennis servers dream come true!
How powerful is the Wilson Burn 100S?
Don't let the lightweight specs of the Wilson Burn 100S fool you – coming in at just under 11 ounces; it is fairly light, especially when trying to hit that heavy driving forehand or backhand. However! The Wilson Burn 100S is significantly stiffer than most tennis racquets on the market, showing a stiffness rating of 73 (lower stiffness rating = more flex; higher stiffness rating = more stiff). The stiffness of the Wilson Burn 100S balanced the lightweight and power ratings for me. The stiffer frame allowed for additional power as the tennis racquet will deflect more energy or power; this factor makes the Wilson Burn 100S ideal for tennis players looking to add more power to their game at the novice to intermediate level.
For me, because I have been playing a long while and have a powerful stroke, I found that the Wilson Burn 100S was a little too stiff for me. It wasn't obvious when I was hitting with the frame, though I certainly felt it the following day; my wrist was a little tender – I had to reach for the anti-inflammatory meds and some ice. Side note: the Wilson Burn 100S came strung directly from Wilson so the tension was much higher than what I normally like to play with.
More spin, less control with the Wilson Burn 100S?
There has been a lot of chatter in the tennis world about the spin friendly tennis rackets; one main topic is "loss of control" with "more spin". The Wilson Burn 100S doesn't necessarily fall into the conversation when you actually play with it; I found that I was able to move the tennis ball around fairly easily like I normally would with my 16×19 string patterned tennis racquets.
Tennis players should take note: Learn to use the additional spin to your advantage! You will find it easy to place the tennis ball in the corners with some smooth kick to put your opponent off balance or simply mark it a winner 
Final thoughts on the Wilson Burn 100S
While I did very much enjoy spending the time to review the Wilson Burn 100S tennis racquet; I just don't think its right for me. I prefer a heavier tennis racquet, usually around 11.5 ounces (325g +/- ) and a with a little more flexibility in the frame.
This is a really great addition to the Wilson 2015 lineup; tennis players rated NTRP 3.0 to about 4.0 would greatly enjoy the additional spin and power the Wilson Burn 100S brings. Keep in mind, this tennis racquet may have some string sensitivity – tension and material, definitely talk to your professional racquet technician about this.
As mentioned above, if you are going to play with the Wilson Burn 100S, learn to use the Spin Effect Technology to your advantage and keep your opponents at bay!
Wilson Burn 100S Racquet Specs:
Head Size: 100 sq. in. / 645.16 sq. cm.
Strung Weight: 11.3oz / 320.35g
Swingweight: 327
Stiffness: 73
Composition: Carbon Fiber Graphite
Power Level: Low-Medium
Grip Type: Wilson Sublime
String Pattern: 18 Mains / 16 Crosses
Click Here To Read Additional Racket Reviews
Click Here To Read Tennis String Ratings
Summary
Reviewer
Review Date
Reviewed Item
Author Rating