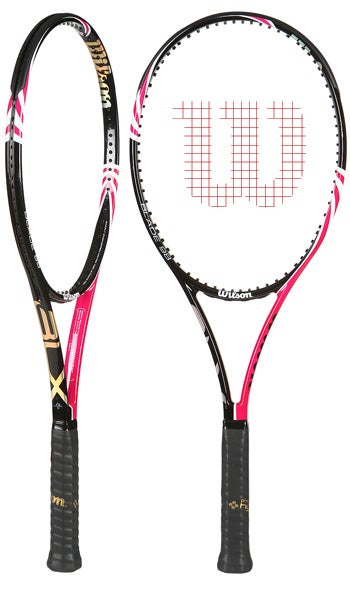 Overall, the Wilson BLX Blade 98 Pink  is a very solid, all court tennis racquet. I generally don't like the feel of Wilson racquets because of the stiffness, but the Wilson BLX Blade 98 Pink was surprisingly comfortable! The frame still had a crisp feel when I made good contact with the ball. The string pattern offers good control to help take away some of the power of the racquet, I prefer a more open string pattern for additional spin, however; this tighter pattern did not affect the spin of the ball that much.
Wilson BLX Blade 98 Pink playtest
Groundstrokes – The Wilson BLX Blade 98 Pink offered solid power and control off of both the forehand and backhand. The Wilson BLX Blade 98 Pink was extremely easy and "whippy" feel and I was able to generate good pop and spin on the forehand and with my one handed backhand. Also, the slice backhand was very nice off this racquet; the ball penetrated the court and spun out to the side quickly.
Serve – The Wilson BLX Blade 98 Pink  serves a very nice flat ball. I tend to hit my serves with a lot of spin and save the flat serves as a change of pace, since my hard flat serve is pretty low percentage. However, with this racquet I went the opposite direction and was able to hit a lot more flat out wide and down the T, which surprisingly went in on a consistent basis. It had very solid directional control on flat serves. My kick serve was also very effective and popped up above the shoulder! The one place I struggled was with my slice serve, I couldn't seem to generate the pop I needed to get that good slice out wide that I love.
Volleys – The touch felt a little off and I felt a little disconnected from the Wilson BLX Blade 98 Pink. Punch volleys and swinging volleys were decent, but touch shots volleys were a little harder to come up with. The ball tended to sail a little bit on me. So if there was a weakness for me with this racquet, it would be on the volleys overall. I'm not sure what it was about being at the net with that racquet, however; it just didn't produce through the court as much as I had hoped.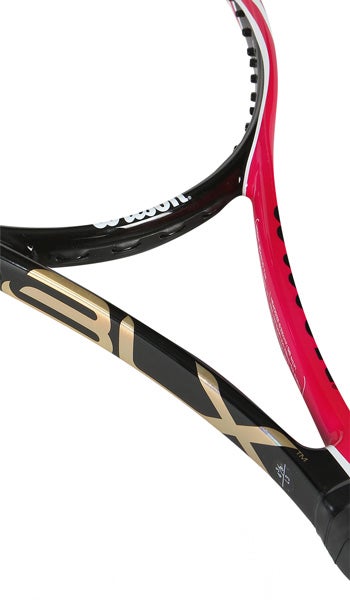 Serve Return – With the Wilson BLX Blade 98 Pink I was able to rip several return winners during match play. I often had my opponent on the defensive with my return. The balance and power of the racquet, combined with the tight pattern gave me a lot of confidence to go after the return. However, on slower paced (second serves) serves I had to be careful to not overswing on the forehand, if I did the ball would sail long easily or dump right into the net.
General  overall performance- The Wilson BLX Blade 98 Pink is light enough for some customization and still has a solid swing weight and decent stability for being extremely light. It has a crisp feel, but not in a way that feels overly stiff. While I prefer a more open string pattern, I was surprised at the spin I could generate for such a dense string pattern.
Wilson BLX Blade 98 Pink Racquet Specs:
Head Size: 98 sq. in.
Length: 27in / 69cm
Strung Weight: 11.3oz
Balance: 2 pts HL
Swingweight: 335
Stiffness: 64
String Pattern: 18 Mains X 20 Crosses
Based in sunny Southern California, raised in Argentina & USA; lover of all things tennis, USRSA Master Racquet Technician (MRT), ATP/WTA Pro Level Stringer; reviewer of tennis strings, tennis racquets, and any interesting tennis gadgets I come across. Plays NTRP 4.5 singles and some doubles. Singled handed backhand with a wicked affection for cured meats and Asado.