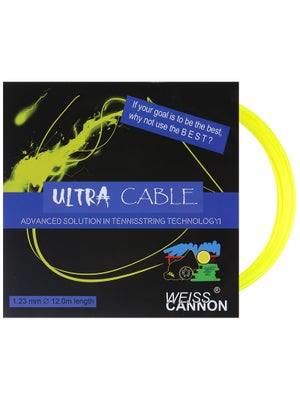 I was first introduced to Weiss Cannon Ultra Cable, by my friends over at Guts & Glory Tennis, I was certain it was just another polyester tennis string coming to market. Little did I know, this tennis string was going to be the spinniest (is that even a word?) poly I've ever played with.
The Weiss Cannon Ultra Cable comes in a neon yellow color that looks similar to Yonex Poly Tour Pro [link] but instead of the traditional round poly, it is square in shape and has some very sharp edges. These sharp edges are one of the main reasons why Weiss Cannon Ultra Cable produces so much spin.
Stringing Weiss Cannon Ultra Cable
Installing this string into my Yonex Duel G 97 was no walk in the park. The tennis string is very firm and because of those sharp edges, my fingertips suffered tremendously. The firmness of the string allowed for easy installation in the mains but when it came to weaving the crosses, the lack of flex in the string made it for some tough passing through each main.
I went with a tension of 44lbs (20kg), which is right around the range I normally string my racquets. The stringbed did feel pretty firm and was worried that I had strung too tight. Needless to say, I was going to go out there and give it a go.
First Impressions Weiss Cannon Ultra Cable
Holy mother of tennis balls! This string is something else. The Weiss Cannon Ultra Cable was definitely firm, but not to the point that I was feeling any sort of tenderness in my arm; in fact, I quite enjoyed the firm response from the stringbed. I found this string to be particularly medium powered, even though Tennis-Warehouse and StringForum have the string rated pretty low in the power department. I didn't have to overswing to get power from the string, I just had to smooth it all out and commit to each stroke.
Now, here's where the Weiss Cannon Ultra Cable really outshines the rest of the "spin strings" on the market. The spin is out of this world! I cannot believe how much ball bite I was getting from the string; I could literally feel the tennis ball dwelling in the strings then getting catapulted/propelled off of the strings with massive amounts of spin. Funny thing is, after each forehand or backhand, there was a noticeable amount of ball felt in the air, more than any other tennis string I've used.
Just how much spin are we talking with Weiss Cannon Ultra Cable?
It's one thing to say "I can feel the ball coming off the strings with spin" and another to actually see what kind of spin a tennis can produce. Weiss Cannon Ultra Cable delivers the spin it promises.
With each ball that I hit, I could see that my topspin forehands were dipping hard and fast. More impressive was how the balls were reacting
after the bounce. I could visually see the tennis ball dip and make contact with the tennis court and then kick up much higher than the original ball trajectory. If I put any bit of sidespin on the ball with my forehands, I could see the ball move to the left or right after the bounce. Really, it's no wonder that Weiss Cannon Ultra Cable received the highest spin rating ever on Tennis-Warehouse (even more than Babolat RPM Blast)!
My tennis partner, who is about 5'9" (175cm) was seeing my better forehands jump above his shoulders where the original ball path was probably around belly high. This was actually very entertaining to watch because he wasn't expecting it. Hitting to his one-handed backhand was usually going to be in my favor if he was a fraction of second late to the ball, because that ball was kicking up high and fast.
My slices were not as impressive, however. I struggled to get the ball to stay down and in the tennis court. Because of the massive amount of spin Weiss Cannon Ultra Cable was producing, the ball favored floating longer. I ended up having to hit the backhand slice a little bit softer to get it to travel short enough to stay in the court.
Weiss Cannon Ultra Cable Tension & Durability
There are many poly strings that claim to have better tension maintenance and durability than their competitors. I personally found that Weiss Cannon Ultra Cable has outstanding tension stability – meaning the string doesn't lose tension as fast others – as well as offering superb durability. I found that I had playable tension for longer than many other polys I have played with.
Weiss Cannon Ultra Cable will not break as easily as some other tennis strings! If you are a string breaker, you'll be pleasantly surprised that Weiss Cannon Ultra Cable doesn't break easily. Because of the square design and how slick the string is, there is plenty of string movement and snapback, but it does not cut into the intersecting string as is with round strings.
Final thoughts on Weiss Cannon Ultra Cable
I have really enjoyed this string. I almost feel guilty with the amount of spin I'm producing with this stuff. I have strung up this tennis string a couple of time on my racquet and have thoroughly enjoyed it every time. If you have a big solid swing, I definitely recommend that you give this a try. You will find that Weiss Cannon Ultra Cable is one of the most spin friendly tennis strings available in 2017. Remember to string it a couple of pounds lower than you normally would to compensate for the under powered nature of the Weiss Cannon Ultra Cable.