Most Exciting Tennis Matches of All-Time
Played at its very best, tennis has a captivating rhythm that few other sports can match. And when two of the game's greats meet on a big stage, its hypnotic pace can make it feel like time stands still (even when a match goes for over five hours).
Here are five of the most exciting tennis matches of all-time that made the world stop and watch, even if it meant missing out on a few hours of sleep.
1985 French Open Final: Chris Evert def. Martina Navratilova
Navratilova-Evert was one of the closest and fiercest tennis rivalries there ever was. Several of their 14 Grand Slam Finals showdowns are probably worthy of making our list, but the 1985 French Open Final might be the best by as narrow a margin that Evert won by. Heading into it, Navratilova had won 15 of her last 16 meetings against her rival, including a dominant 6-3, 6-1 victory in the previous year's French Final.
But revenge would be Evert's this day at Roland Garros. Rife with tension, Navratilova dropped the first set 6-3 but fought back in the second despite being down 2-4, 0-40 to force a decisive third. Evert blew a 5-3 lead, but eventually would break Navratilova's serve in the 12th game to win the French for a record sixth time and regain the World No. 1 spot.
1991 U.S. Open Fourth Round: Jimmy Connors def. Aaron Krickstein
For those that are old enough to remember the early 90s, Connors-Krickstein in the 1991 U.S. Open might as well have been the match of a lifetime. Against all odds and after most had resigned his to career to already be over, the 39-year old Connors made an implausible run to the semis, all while both the United States and the nation of tennis rallied behind him.
His opponent in the fourth round was Aaron Krickstein, a fellow American 13 years Connors' junior that upset 8th seeded Andre Agassi in the first round in straight sets. The countrymen traded sets back and forth, building up to a legendary fifth set that's become the default footage to show during U.S. Open rain delays. Connors eventually prevailed in a fifth set tiebreaker 3-6, 7-6 (10-8), 1-6, 6-3, 7-6 (7-4). He'd win one more before bowing out in the semis after an 11-day run of pure magic.
2008 Wimbledon Final: Nadal def. Federer
Rafael Nadal and Roger Federer's rivalry was already well-established by the time they met in this nearly-five hour epic, which only adds to its legend and everything that occurred during it. Federer, the winner of the previous four Wimbledons (including the previous year's final over Nadal), dropped the first two sets but won the third and also the fourth in a tiebreaker that was as good as twenty minutes of tennis will ever be.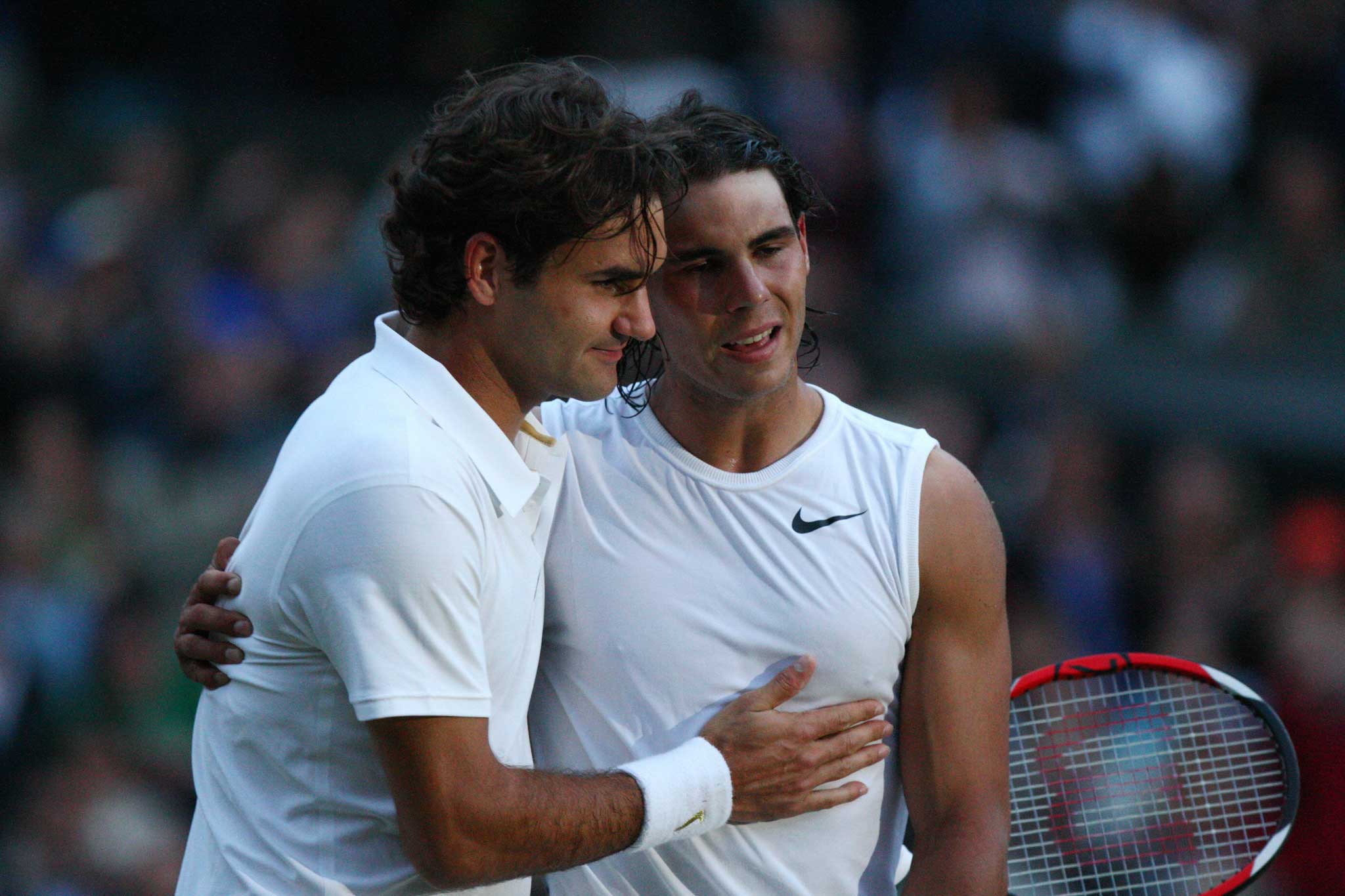 Due to two long rain delays, the match continued on as darkness crept onto Centre Court. Nadal would outlast both the dusk and Fed, winning 6-4, 6-4, 6-7 (5-7), 6-7 (8-10), 9-7 in the longest singles final in Wimbledon history.
2009 Wimbledon Semi-Final: Serena def. Dementieva
Despite just being an exciting match in its own right, this 2009 Wimbledon semi was extra-significant in the careers of its contestants. Elena Dementieva is considered to be one of the best women's players of her era, while Serena is considered one of the greatest of all-time.
Despite Serena being a -500 favorite at most online Wimbledon targeted sportsbooks and casinos, the Russian had Williams at match point in the third set. But in what would become classic Serena fashion, a fierce comeback was staged. She would eventually win 7-5, and her third Wimbledon title. For Dementieva, the match was the peak point in her career which despite all its accomplishments, never resulted in a Grand Slam title. For Serena, the win relaunched her career into the empire it's become today (and avoided giving plenty of punters heart attacks).
2012 Australian Open Final: Djokovic def. Nadal
Long matches aren't always exciting ones, but when Pete Sampras hails a match as "the best she's ever witnessed" and Patrick McEnroe sings, "You think you've seen everything and then you see this [match]", it's probably a fair shake to call the 2012 Australian Open Final between Novak Djokovic and Rafael Nadal the greatest and most exciting tennis match of all-time.
The colossal clash between the world's No.1 and No.2 was everything as promised and more, needing five hours and 53 minutes (the longest Grand Slam Final in history) and until 1:37AM to decide a winner. That winner, or should we say survivor, was Djokovic, who rallied back after falling behind 4-2 in the final set. Even after dropping an exhausting 32 shot rally in the set's ninth game of the set, Djoko hung on to win 7-5 and his second straight Aussie Open.