Every year, there is a best tennis racquets list, and 2012 is no different. 2012 has been a year of change, the rankings have changed, a courts' surface color was changed, and even some records have changed. The most important facet of tennis has received a few changes, some minor and some major. Nearly all tennis racket manufacturers have introduced new frames this year, having to pick the best tennis racquets of 2012 is never an easy pick. I have been reviewing, playtesting, asking, talking, and thinking of all the new tennis racquets on the market to figure out the best tennis racquets.
For you, my dear readers and tennis enthusiasts, I have put together a list of the 5 best tennis racquets of 2012:
#5 – Wilson BLX Juice 100. This frame from Wilson is one of the best tennis racquets because it's nice, it has good feel, and was decent when it came to power. Wilson has been putting in a lot of advertising dollars into the BLX Juice 100, pitching that it should be outlawed, claiming it is too powerful and provided too much spin on the ball giving it an unfair advantage; obviously Wilson would not be foolish enough to made a tennis racquet that was destined to be illegal. I hit with this frame for a while, I was, at times impressed and other times I was not; I just felt like I could not get used to it. There was something about it when I swung, I would make contact, felt like I hit the sweetspot only to have the ball hit the middle of the net – trust me, I played with my "go-to" racquet on the same days and hit just fine. The spin was just OK, nothing I couldn't produce with another 16×18 tennis racket; even when I did hit a good top spin forehand, the ball would not have the same weight I would normally hit. The BLX Juice definitely had some nice characteristics though, I absolutely loved the serve potential with this racquet, it was easy to swing through my service motion, and producing flat bombs down the "T' were easy; unfortunately, just a serve will not win you many matches. On the ground, my forehand felt nice, I was hitting just fine but when my practice partner really cracked a ball, I felt the Wilson to be very unstable when handling power. I personally prefer a heftier frame (12 ounces +), where the BLX Juice is a little on the lighter side coming in at 11.3 ounces strung. I would have to add some weight at the 12 o'clock position increasing the swingweight for more plow. If I had to say who would benefit from having the Wilson BLX Juice 100, I would absolutely recommend it to the player who is looking for a lighter 100 square inch tennis racket that is looking to add a little more firmness to their game.
#4 – Head YouTek IG Prestige Pro (16×19). Now this tennis racquet is more my style. The #4 best tennis racquets is because it's hefty, solid, and can produce the pace that I tend to go for. It is not the best tennis racquets I have tested even though I have been a long time Head tennis fan. I have owned and played with many of the of Flexpoint Prestige tennis racquets, and Microgel as well. I have spent plenty of time with YouTek frames, though I didn't end up keeping them in my bag; I was looking forward to playtesting the YouTek IG Prestige series. The IG Prestige Pro really did exceed my expectations, when it came to power the Prestige Pro produced it, the spin off the stringbed were decent, but it's the control that impressed me the most. For an open string pattern, it's a little more challenging placing the ball where you want it at will, though the YouTek IG Prestige Pro gave the control of a dense pattern stick. I could move the ball side to side, down the line, deep, shallow, wherever I needed, it gave me. It is also the best tennis racquets even when hitting against heavy hitters. It absorbing a lot of the power and sending it back (BG's "return to sender") nicely. Serving was mediocre with this though, the pop was nice but getting the ball go through the service box was where I struggled the most; kicks and slices were a pleasure, very easy to do. The one thing that the Prestige Pro gave me, which I did not ask for, was tennis elbow; it might have been the combination of frame stiffness and stiff strings that gave it to me, though it was excruciatingly painful for a couple of weeks after I hit with it (yes, I used a vibration dampener). That was the only aspect of this racquet that doesn't make it the best tennis racquets, though there is that saying 'no pain, no gain.' No thanks, I would rather not gain. I would highly recommend this beastly tennis racquet for the strong-armed tennis player, the NTRP 4.0+ who likes a stiff frame. The Prestige Pro definitely deserves to be on a list of the best tennis racquets of the year, but it's not the best tennis racquets.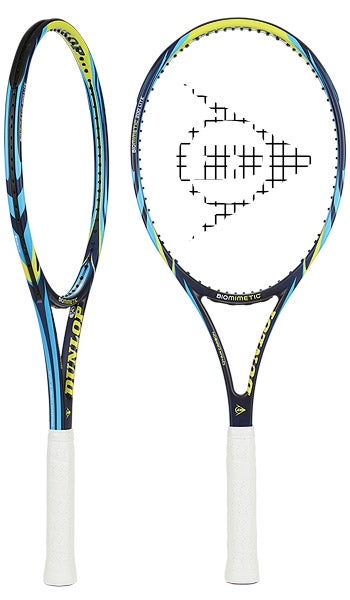 #3 – Dunlop Biomimetic 200 Lite. I never really intended to like this tennis racquet, I was never really a fan; that all changed after I picked up this frame. This is one of the best tennis racquets available in 2012. The Bio 200 Lite is a part of the 200 series (Standard, Tour, and Plus), a pretty powerful set of tennis rackets for today's game. The most appealing part of the tennis racquet is the color scheme, it says something to me; perhaps it's bright yellow that stands out, who knows. In any event, I played with this racquet for several weeks, I loved every day with it. It's powerful, stable, easy to swing, nice on the arm, and generates that all important spin. On the ground, I was able to hit some very firm forehands and backhands (one-hander), it was very solid going through contact and and felt near no jarring, it was very nice. What impressed me the absolute most when it came to performance was the slice backhand…OMG! That's why it made it one of the best tennis racquets. It was easy to hit. I was just the perfect slicing tennis racquet. Hitting any serve with spin using the Biomimetic 200 Lite was extremely rewarding, the ball would turn hard in the air and after hitting the ground, where kick serves would jump up and out (or in) very fast and aggressive. This tennis racquet is by far my favorite overall frame, not the best, because I found that it did lack power when going for it, the ball would not move through the air as fast as I thought I hit it. The Dunlop Biomimetic 200 Lite is perfect for the aggressive all court player looking to have a racquet that provides easy spin and that is arm friendly. The Dunlop Biomimetic 200 Lite is one of the best tennis racquets, a must try for all tennis players.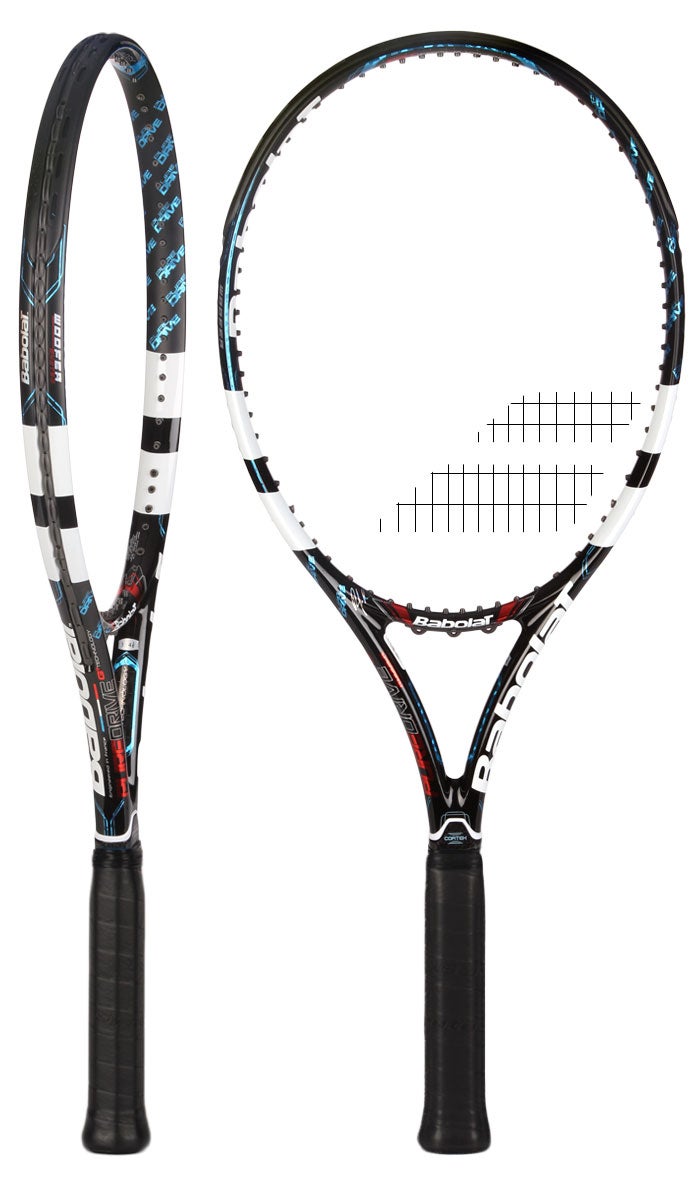 #2 – Babolat Pure Drive Roddick. No "best tennis racquets of 2012" list is complete without a Babolat frame. Of course, this year it's the Pure Drive Roddick, with a new paint job and some added power, it is a contender for the best tennis racquet of 2012 but not number 1 on my list. I was a big fan of playing, and breaking, the first series of Babolat Pure Drive Roddick Cortex tennis racquets; I was hoping that the new 2012 version would be a nice change from the previous PD update (GT Models), I was pleasantly surprised this time around. Babolat made a few small changes, that were enough to make this a tremendous tennis racket – the weight was increased from 11.8 to 11.9 ounces and the swingweight was brought down a few grams, making it easier to swing but not light enough to take away from plow-through. The Pure Drive Roddick was also given a drop in stiffness, most Babolat racquets are stiff, though to combat that Babolat put in the Cortex system (reduces vibration from head/throat to handle), it's still stiff but not shocking to the joints. The Pure Drive Roddick kept the open 16×19 string pattern, still giving me that spin that I like. Hitting with this thing was, for me, not as awesome as it sounds on paper, yes, it's an absolute beast when hitting big forehands or backhands…mostly forehands or hitting big flat serves, but anything outside of that it was poor. It felt light and brittle when trying to maneuver around the court. This makes the top of the best tennis racquets because of the serve. When I hit serves, it didn't really do it for me. It didn't have the swingweight to really pocket the ball on anything with spin. I had a love/hate relationship with this the Babolat Pure Drive Roddick,which is why it's not the best tennis racquets. I loved it off the ground from the baseline, but hated anything else. So, this racket makes #2 because of the power from the ground, it's perfect for the player who can hit winners easily from the baseline and has no interest in coming to net. The Babolat doesn't take the best tennis racquets of the year, but it's very close.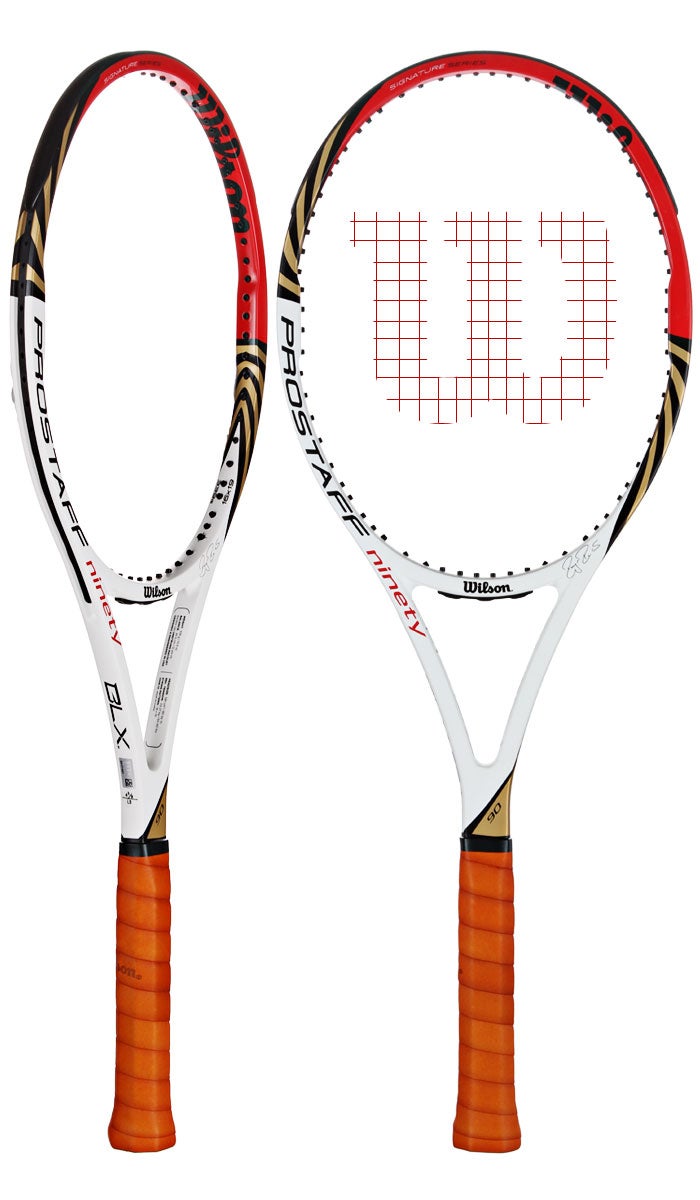 #1 – Wilson BLX ProStaff Six.One 90. This is the best tennis racquets of 2012, and probably the decade.The best tennis racquets of 2012! Seems only fitting right? The Wilson BLX PS 6.1 90 is the tennis racquet that Roger Federer uses and it's clear why he carries this weapon in his bag. This is a serious tennis racquet, it's heavy, solid, flat beamed, and will make you work to get the results that you ask of it. The Wilson BLX PS is nothing to take lightly, it's 12.6 ounce strung weight requires the player to have the muscles to heave this thing for extended periods of time, it's small 90 inch head makes hitting centered shots difficult, the flat beam lacks aerodynamics entirely, and the open 16×19 string pattern makes it a pain in the ass to control; and that's exactly why it's the best tennis racket of 2012. When I finally found my range with the Wilson, I could not be stopped; I felt like I was hitting the ball the best I have ever hit it! I could hit with power or touch when I wanted, with spin or flat, and I was able to place it pretty much where I want to, within a few inches of course. No matter what I wanted to do, I could use the Wilson BLX PS 6.1 90 from anywhere I needed, at net it performed, the headlight balance (8 points HL) let me go from forehand to backhand without a problem, drop volleys or deep volleys were easy as pie; even volleying hard passes the ProStaff was stable through the entire impact, it was just amazing. Like I already said, it's not the easiest tennis racquet to play with, it's a beast and could cause physical damage easily if you don't have solid strokes. The Wilson BLX ProStaff Six.One 90 is probably the most popular tennis racquet of 2012 as I see many players using this particular frame and they all love them; if you have a solid foundation and can hit the ball smoothly, then this is the tennis racket for you, try it out, you'll love it. It's the best tennis racquets of the year for many reasons.
Well, there you have it, the best of the best tennis racquets of 2012, Wilson, Babolat, Dunlop, and Head leading the pack of the best. If you try or currently play with any of these tennis racquets, you are a wise player and have chosen the best tennis racquet available on the market today.