Hey Tennisthis.com fans and readers! Just when we thought 2010 was coming to a close without a hitch, we have found this interesting little picture. Who is that and what is she holding? After tons and tons of rumors that Caroline Wozniacki was going to switch tennis racquets, we come across this picture providing evidence that she could very well be leaving Babolat tennis racquets behind and going to Yonex tennis rackets.
Interesting eh? We thought so, which is why we are sharing this with you. Wozniacki had not made the switch until now because of her contract with Babolat (expires at the end of the year). We're sure Yonex has paid a pretty penny to get the tennis superstar to sign with them, however; we are confident it is well worth the price.
Looking at the Yonex tennis racquet, it's quite hard to make out what model Wozniacki will be using. But we are pretty sure it will be the new line that Yonex will be announcing at the beginning of the new year. It is certainly not the E-Zone model that Yonex has, so our guess is as good as yours.
Now the only questions that remain are, will this racket change help her tennis game? Will she be able to capture a slam with the change? What is the adjustment period like for her? What else can we expect from Wozniacki switching tennis racquets? What are your thoughts readers?
Oh and a side note, Wozniacki looks absolutely stunning in that white tennis dress!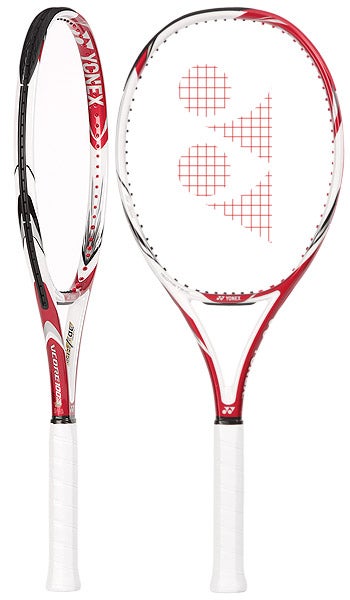 The new 2011 Yonex V-Core 100S tennis racquet is the choice of the Womens' #1 player, Caroline Wozniacki